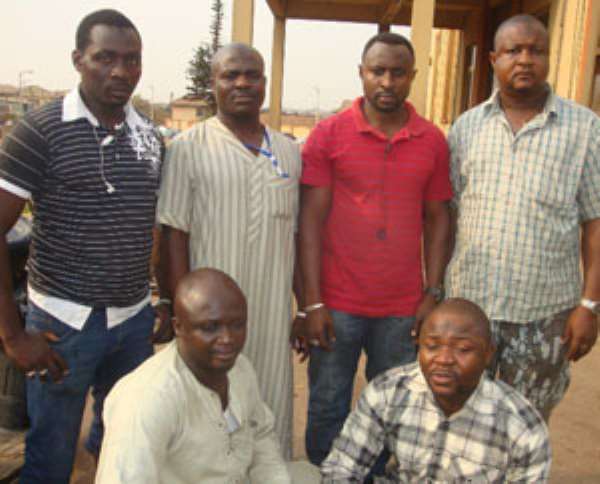 Section of the Bashakkah National Movement executives in a photograph
THE ASHANTI Regional Minister Dr. Kwaku Agyeman Mensah has started the New Year on a bad note, as a group in the National Democratic Congress (NDC) is calling for his head.  
The 'Ba'shakkah National Movement' (BNM) in Kumasi has accused the minister of displaying poor leadership skills which could prevent President Mills from winning more votes in Kumasi and retaining political power in the polls.
In the interest of the NDC and in his own interest, the BNM urged Dr. Agyeman Mensah to step down latest by January 15 this year, to avert being demonstrated against by the group.
In a press release signed by the Secretary of BNM, Mallam Sulley and issued to the press on Tuesday January 4, 2012, the NDC group slammed the Ashanti Regional Minister for engaging in divide-and-rule tactics.
'This style of divide-and-rule system by the minister is killing the party's image, whereby two or three groups are invited and neglecting the rest,' the release stated, adding that the minister had continually turned away loyal party members that had tried to meet him.
The BNM insisted that Dr. Agyeman Mensah's actions had the potential of collapsing the NDC in the Ashanti region especially as the elections drew near, calling on the minister to humbly resign within the next nine days.
They stressed that if the minister failed to heed their call, then the government should take the responsibility of sacking Dr. Agyeman Mensah latest by January 15, 2012.
According to them, the Ashanti Regional Minister, besides being arrogant, had also made reckless and unguarded statements about their group sometime ago and they wanted to face him now.
'This group would like to make it clear to the arrogant regional minister that we are privy to his reckless and unguarded statements that he should have crashed us within 15 minutes if not for our association with the NDC.'
The Ashanti Regional Minister, the BNM said, must know that it was the hard work and efforts of people like them that helped the NDC to attain political power which had made him a minister.
They urged the President to immediately replace the minister with a more competent and accommodating person who had the NDC at heart and could help the party to win more votes in the impending elections.
The BNM pointed out that personally they did not have anything against the Ashanti Regional Minister, stressing that they had taken this decision to save the NDC from suffering during the polls.
FROM I.F. Joe Awuah Jnr., Kumasi