Farming Is Lucrative. Says Best Farmer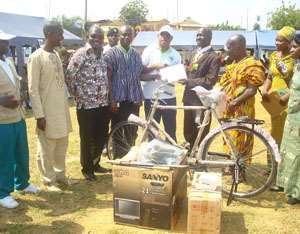 Shama District Best Farmer receives his prize
JOSEPH QUANSAH, the 2011 best farmer for Shama District in the Western Region, has stated that the rich and highly educated people in Ghana should take to farming and not leave it to illiterates alone.
He said if the country would grow to be self-sufficient in food production and use agro-based raw materials for its manufacturing industry, then farming or agriculture should be given the needed push and boost in the nation's annual budget.
"No nation has developed without putting agriculture first and industry second. But Ghana seems to relegate farming only to illiterate folks, so the culture is that graduates including agricultural scientists abhor farming as a profession," he told DAILY GUIDE .
The 67-year-old Quansah, who is from Fawomanye, near Beposo in the Shama District, made these remarks in an exclusive interview after being adjudged the best farmer in the district during the 27th National Farmers' Day celebration at Komfoeku, near Shama.
For his prize, he took home a 21-inch colour television, a bicycle, one sewing machine, cutlasses, four wellington boots and some gallons of insecticides.
During the inspection of his farm by a group of agricultural experts this year, Quansah had cultivated 25 acres of coconut, six acres of maize, five acres of citrus, four acres of cassava, four acres of acacia (woodlots), 1 acre each of plantain, yam, tomatoes, garden eggs and owned 25 goats and 10 sheep.
The district best farmer said he completed Middle School in 1966 and worked for 15 years with the Ghana Textiles Manufacturing Company (GTMC) in Tema without making any headway in his finances.
He said when the late head of state, Ignatius Kutu Acheampong, introduced the 'Operation Feed Yourself' programme, he became interested in it and left his job to start farming in his village in 1976 and had since not regretted taking that decision.
"I have been able to look after my five children very well and now the family is happy because of my farming work. It only calls for commitment, perseverance and hard work," he advised.
The District Chief Executive of Shama, Enoch Kojo Appiah, wondered why the Jubilee Partners producing oil in the Western Region should import cabbages and other vegetables from La Cote d'Ivoire, whereas there were competent farmers in the region.
He therefore promised to help farmers in the district to produce the required quality and quantities of cabbages, carrots and other vegetables the oil company might demand so that farmers in the district could make good money in the coming years.
The Shama District Director of Agriculture, John Kweku Appiah, prevailed on the farmers to embrace new technologies available in their activities for increased production and make substantial profit.
From Sam Mark Essien, Komfoeku