'Movement for Oteng Adjei 2012' launched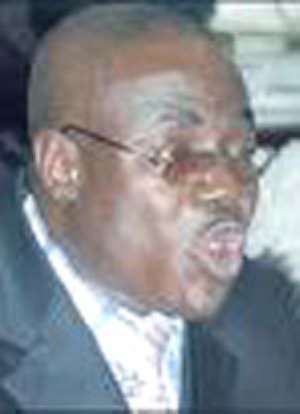 Energy of Minister, Dr. Joe Oteng Adjei
A GROUP calling itself 'Movement for Oteng Adjei 2012' has been formed to prop the bid for the Energy Minister, Dr. Joseph Oteng Adjei, who is contesting for the Bosomtwe parliamentary seat.
Membership of the group is to employ all the needed strategies to maximize votes for Dr. Oteng Adjei, without regard to any monetary influence,' he stated.
The group, numbering about 1,500 youth and coming from both NDC and NPP, from all the electoral areas of the constituency, have pledged their  support for the Energy Minister, claiming the incumbent MP had  allegedly not contributed much towards the development of the constituency, citing poor road network, inadequate educational infrastructure and  community electrification,  among others.
The Movement, formed three months ago on the grounds of political neutrality, following a joint consultation of the youth in the area, want to champion the development of the constituency.
Briefing The Chronicle, the NPP chairman for Kuntanse Adwuman polling station, who also doubles as the chairman of the Movement, Mr. Isaac Ofori described the Bosomtwe district as the poorest of all districts which is without a Senior High School (SHS) at the district capital.
'Our current MP's performance is nothing to write home about and keeping him as the MP for the area, would amount to total disappointment to the constituents', Ofori  said.
Mr. Ofori explained hat the decision to support the Energy Minister's bid follows the provision of massive development projects in the area, especially, the extension of electricity to all remote communities in the constituency and schools.
He said the Energy Minister has a lot of   untapped potentials which when given the nod as the MP would benefit constituents in general.
Meanwhile, the Energy Minister has commissioned an electrification project under which he has personally provided about 60 streetlights for the Jachie community in the constituency, among other projects.