Nigeria extremist sect has political links: police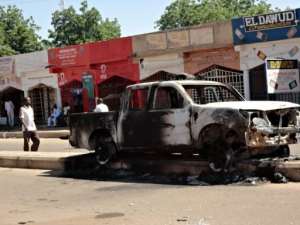 Pedestrians walk by a pickup truck burnt on November 4 by members of the Boko Haram Islamist sect in Damaturu. By Aminu Abubakar (AFP/File)
ABUJA (AFP) - Nigeria's secret police said Monday that the extremist Boko Haram sect, blamed for scores of attacks including the August suicide bombing of UN headquarters here, has links to local politicians.
Police said they had exposed the connections after the arrest and questioning of an alleged spokesman for the Islamist group.
"His arrest further confirms the Service (police) position that some of the Boko Haram extremists have political patronage and sponsorship," secret police spokeswoman Marilyn Ogar said.
The statement said that the suspect named as Ali Sanda Umar Konduga confessed he "was recruited by a political party stalwart in Maiduguri," the northeastern city where most of the attacks blamed on Boko Haram have taken place.
Police did not identify the political party involved.
It alleged that Konduga was the Boko Haram spokesman quoted in the media under the alias Usman al-Zawahiri.
He was arrested on November 3. Police did not say why it was only being announced now.
There has long been speculation over political links to at least certain factions of Boko Haram, which has claimed responsibility for dozens of attacks, including an August suicide bombing of UN headquarters in Abuja which killed at least 24 people.
Ogar's statement alleged Konduga was "a former political thug," referring to the practice of Nigerian politicians of recruiting or forming local gangs to help rig elections or use as muscle.
The statement said one benefactor promised to pay him 10 million naira ($60,000, 45,000 euros) to work for his party, but then died on his way to deliver half the sum to Konduga.
Konduga claimed a member of Nigeria's National Assembly then took over the running of his activities.
The statement also alleged Konduga was behind threatening text messages sent to election tribunal judges and other threats made to politicians including former president Olusegun Obasanjo.
It clamed that Konduga told security agents that threat messages sent to the chairman of an election petition tribunal in Borno state, where Maiduguri is located, "were scripted and relayed to him by the National Assembly member."
Boko Haram launched an uprising in 2009 put down by a brutal military assault that left hundreds dead and which left its mosque and headquarters in Maiduguri in ruins.
It appeared to go dormant for about a year before re-emerging with a series of hit-and-run shootings. Bomb blasts have become frequent and increasingly sophisticated in recent months.
There has been intense speculation over whether the group has formed links with outside extremist groups, including Al-Qaeda's north African branch.