Vice President to donate 15-Seater bus to School of Communication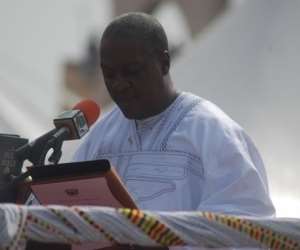 Vice President John Dramani Mahama on Friday paid an official visit to the University Of Ghana School Of Communication and pledged to deliver a 15-Seater bus to them as his contribution towards his Alma mater.
He attributed part of his successful political career to the communication skills he gained from the School as a post-graduate student.
Vice President Mahama's visit to the School formed part of the University's Educational Fair and Homecoming event, where various departments, institutions, schools and faculties undertook programmes to highlight on their activities and performance.
He advised the students to take advantage of the facilities of the School to project its activities to the outside world and to enhance their own capacities in the private and public sectors.
The Vice President regretted that the bus, which was ordered sometime ago for the School, was yet to be cleared at the Port and promised to deliver it as soon as it arrived.
Professor Ernest Aryeetey, Vice Chancellor of the University of Ghana, said the Homecoming event was organised to reconnect the Alumini of the School with current students and school authorities.
He said the programme would also help the Alumini and the authorities to find lasting solutions to both societal and academic problems.
Dr. Margaret Amoakohene, Acting Director of the School, commended the Vice President for his visit and hoped others would also remember their former schools to constantly visit.
GNA