Goodwill International Group gives financial support to Students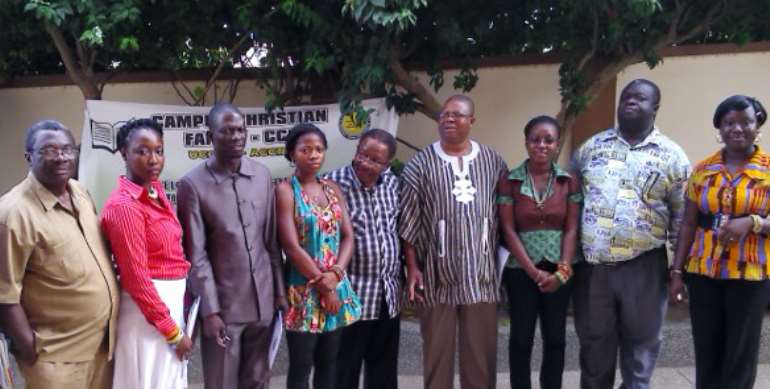 Accra, Nov. 15, GNA – Goodwill International Group (GIG) Ghana, a limited liability company in partnership with the Management Development and Productivity Institute (MDPI), has sourced funds from Discovery Group to support Student in Free Enterprise (SIFE) of the University College of Management Studies (UCOMS) Chapter.
The fund which amounts to GH¢ 45, 000, is designed to provide financial assistance to SIFE UCOMS and five students who represented Ghana at the recent SIFE World Cup in Malaysia.
Each student was given a cheque for GH¢ 5, 000 as an educational scholarship and another cheque for GH¢ 20,000 to SIFE UCOMS to facilitate their activities in subsequent programmes.
The support formed part of GIG Ghana and MDPI efforts to motivate students to have interest in developing their entrepreneurial skills.
Presenting the cheques Mr. Philip Assibit Akpeena, Managing Consultant of GIG, Ghana, said the intellectual project exhibited by SIFE UCOMS during the World Cup competition encouraged GIG to partner MDPI to motivate the students to help develop their entrepreneurial skills.
He stressed on GIG Ghana's commitment to bringing advancement, development and empowerment to students in Ghana and noted that "we believe we can achieve this through education – the tool that is known to break barriers."
"Through this support we are supporting them to achieve their educational goals and make a meaningful contribution to their own development and the development of Ghana as a whole", he said and called on universities to take entrepreneurial skills of students seriously for national development.
Mr Akpeena advised the student beneficiaries to study hard to justify the support and urged them to participate in extra curricular activities to help improve their leadership skills.
Dr Saibu Gariba, Director General of the MDPI, stressed the importance of encouraging students who are into entrepreneurial projects and said MDPI's involvement with supporting SIFE UCOMS would mark the beginning of a renewed relationship to work together for productive results.
He said Ghana needed to take more critical steps to promote SIFE Ghana in order to achieve entrepreneurial productivity of students.
Professor Kofi Pecku, Rector of UCOMS commended the two organizations for their immense support in encouraging students to develop their entrepreneurial potentials.
The Goodwill Group works with the MDPI to train and motivate the youth who are into entrepreneurial developments.
The Discovery Group, Inc was founded in September, 1987 to focus on the integration of geological, petrophysical, and engineering data.
It has worked on projects for companies of all sizes, from the one-person shop up to the largest oil companies in the world, for the majors and independents, for national oil companies, and for service companies and other consulting firms.
GNA