Court remands unemployed for murder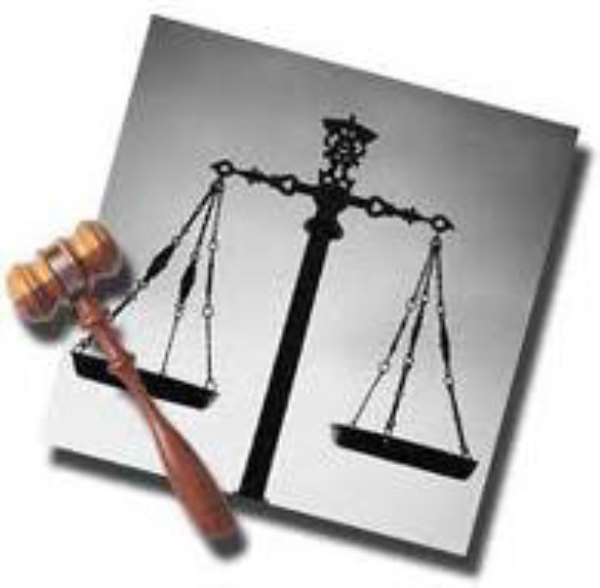 An unemployed, who allegedly robbed and stabbed the throat of a student, has been arraigned before an Accra circuit court. The accused person, Andrew Akpata, alias Outtara, is alleged to have murdered the deceased in cold blood at Madina, a suburb of Accra.
He has been charged with four counts of robbery, carrying offensive weapon, possessing narcotic drug and murder. He pleaded not guilty before the court, presided over by Mr. Eric Kyei Baffour. He has been remanded into custody to re-appear before the court on April 20, 2011.
The facts of the case indicate that on March 16, 2011, at about 10 am, the deceased, Bright Boadi travelled to Ashanti Mampong in the Ashanti Region to collect his school fees from his father.
According to the prosecutor, Inspector J.K. Anim, at about 2:15 a.m on March 17, 2011, the deceased returned to Madina, after receiving an amount of GH¢250.00 from his father as part payment of the school fees.
He told the court that about 50 meters to the deceased home, the accused person and his accomplice, who is now at large, attacked the deceased with a knife and robbed him of his mobile phone, valued at GH¢120.00 and a cash amount of GH¢250.00.
'The accused and his accomplice, having robbed the deceased of his belongings, stabbed him in the throat. The deceased who managed to reach his house, was rushed to the hospital but died shortly on arrival,' the prosecutor added.
He further mentioned that in the course of the investigation, the name of the accused person featured, leading to his arrest, adding that at the time of his arrest the accused person had in his possession 25 wrappers of dry leaves suspected to be Indian hemp and three jack knives and two scissors.
Inspector Anim said in his caution statement that the accused person admitted having formed a club where members contribute to the purchase of the suspected dry leaves.
The prosecutor asked the court to remand the accused in order for the police to have ample time to complete with the investigation.