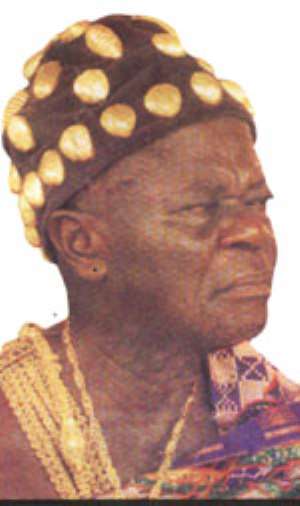 Paramount Chief of Wassa Amenfi, Kasapreko Kwame Bassanyo III
The people of Wassa Amenfi, at the weekend, celebrated their Krokobooman Akwantu Kesee festival with a grand ceremony.
The Akwantu Kesee festival serves as a grand re-union of all Wassa Amenfi citizens to celebrate their past, and to recall the exploits of their ancestors.
It is also an opportunity to take stock, forgive, and reconcile with one another, and above all, to plan the way forward in the coming year.
Addressing the celebrants, the Paramount Chief of Wassa Amenfi, Kasapreko Kwame Bassanyo III, told them (celebrants), 'We in the Wassa Amenfi traditional area have every reason to celebrate our Akwantu Kesee festival in grand style, after a disposal of chieftaincy disputes that resulted in the placing of a ban on the celebration for the past five years. We are grateful to God for restoring the Krokobooman Akwantu.'