UN backs Ivory Coast's Ouattara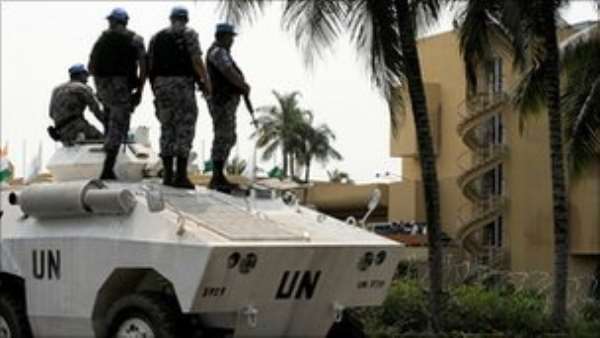 The UN Security Council has issued a statement saying that Ivory Coast opposition candidate Alassane Ouattara won the disputed presidential election.
The statement came after three days of debate at the UN, in which Russia expressed concern that the UN was exceeding its mandate.
Incumbent President Laurent Gbagbo is defying international pressure and continuing to cling to power.
His stance led West African regional bloc Ecowas to suspend Ivory Coast.
In its statement, the 15-nation Security Council said it condemned "in the strongest terms any effort to subvert the popular will of the people" in Ivory Coast.
"In view of Ecowas' recognition of Alassane Ouattara as president-elect and representative of the freely expressed voice of the Ivorian people as proclaimed by the Independent Electoral Commission, members of the Security Council call on all stakeholders to respect the outcome of the election," it added.
The BBC's Barbara Plett at the UN in New York says it was perhaps a concession to Moscow that the council spelled out that it was following the lead of Ecowas.
According to diplomats, Russia had argued that supporting one candidate in the disputed poll exceeded the UN's mandate.
However, US representative Susan Rice said the UN mission in Ivory Coast was empowered to certify the election under a peace treaty signed after the country's 2002 civil war.
UN envoy to Ivory Coast Choi Young-jin told the council that Mr Ouattara's victory was "irrefutable".
Diplomats said other members of the council had strongly urged Russia to drop its opposition, especially the three African states.
The Security Council's endorsement of Mr Ouattara now leaves Mr Gbagbo with almost no supporters in the outside world, our correspondent says.
In Abidjan, both men have named their own Cabinets, heightening tension in the country.
Mr Ouattara is operating from a luxury hotel, guarded by UN peacekeepers.
Earlier, Liberia's President Ellen Johnson-Sirleaf warned its former rebel fighters not to get involved in the Ivory Coast crisis.
Liberian fighters were involved in Ivory Coast's 2002 civil war, which left the country divided, while Charles Taylor launched his Liberian rebellion from Ivory Coast in 1989, sparking 14 years of bloodshed.