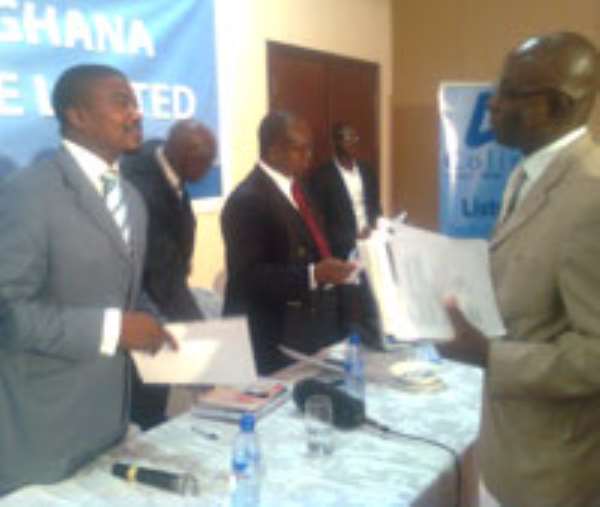 Mel Kebe,(L)Executive Director of Colina Ghana in an interaction at a press breifing yesterday
Colina Ghana Insurance Limited, a new entrant into Ghana's insurance industry says it is poised to inject some fresh energy into the already competitive insurance industry in the country, by providing world class services and diversified customer focused products.
'We are excited at having the opportunity to provide our clients in Ghana with first class insurance services and products. Our clients will have a comprehensive range of solutions and innovative products structured to meet their specific needs', noted Mel Kebe, Executive Director of the company.
According to him, the company's experience from several years of operations in the industry across the continent gives it the leverage to provide products and services that beat competition. 'The company has both internal and external technical and actuarial competences, including high-performance management tools, which allow the company to set up customized solutions for the complex needs of our clients,' he noted further.
The group currently has presence in Paris and 11 African countries in Africa and has operated for over 30 years. The Executive Director further stressed that the company takes prided in its Pan-African network such as its association with Group Bank of Africa, it is able to design and sell bank assurance products for general and life insurance.
Colina Ghana is a subsidiary of Groupe Colina, one of Africa's renowned firms in insurance and real estate. In September 2010, the company took over Beacon Insurance, paving the way for Colina Ghana in the insurance industry.