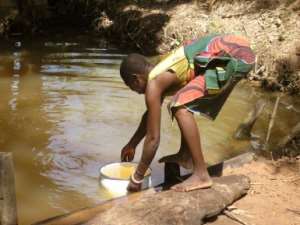 The President of Nigeria – Dr Goodluck Ebele Jonathan must be putting finishing touches to his speech for the forthcoming UN Millennium Development Goal (MDG) summit in New York in the next few days. And right by the corner, the officials of his Ministry of health have just announced that the death toll as a result of devastating cholera epidemic has reached 781. This is to say that, officially this is the number of people pronounced dead while thousands are receiving treatment in many ill equipped hospital scattered around the area. With hindsight, one would say that if official sources have confirmed more than seven hundred, then the actual figures will be a little more than a thousand. The outbreak might have affected more than 6,400 people in twelve out of Nigeria's thirty six states.
Just by mere coincidence, the Nigerian President will be speaking on how the world can work together in meeting the global Millennium Development Goals (MDGS). No event would better confirm that the country he leads cannot meet the Millennium Development Goals considering this recent incident of cholera outbreak across Nigeria. To put it mildly, this recent cholera outbreak is deeply unsettling considering the billions of naira that have been squandered in the name of implementing projects that are geared towards achieving these goals. If my country of birth was a country where leaders are responsive to the needs of the citizens, President Jonathan would cancel his trip; sack his Minister for health and Special Adviser on Millennium Development Goals and go ahead to declare the areas affected by cholera as "disaster zone".
The typical trend of things in Nigeria as always is paradoxically peculiar and interesting. Many recent events, some tragic and premeditated confirms the sardonic truth about the Nigerian situation. From the Niger Delta crisis to the Jos conflicts and from Boko Haram insurgence to the tragic gold in Zamfara State, governmental action is notorious for only being reactionary. Why must we wait for a disaster to happen and hundreds of lives lost before we put up any action? This is bizarre.
Since the beginning of the year many Nigerians have died as a result of Cholera: a preventable disease. And these deaths go unnoticed until it becomes an epidemic. In January this year, six persons were reported to have died in Opobo town in Opobo local government in Rivers State while seventy eight others were hospitalized. Later in June, twenty one persons died in Adamawa State as a result of Cholera while eighty six others were reported to be lying in critical conditions in several hospitals in the state. In July, six persons died as one hundred and sixty people were infected with cholera in Bauchi State. All these happened before the last incident which swept like a hurricane, yet all responsible in government kept quiet. If we probe further, there must have been a committee put in place and consisting of many bureaucrats that meet in five star hotels, collecting fat sitting allowances and pretending to be busy looking for solution. That is a typical government response to emergencies affecting citizens. There will be field trips for many days with esta-codes to find out how five other countries tackled their own situation in the sixties. Many short and long term consultancies would have been commissioned. In short every disaster creates "job for the boys".
Anyway, back to the MDG story. Many will see it as being unpatriotic to say that Nigeria will not be able to meet the millennium development goals. No. Not at this pace. The first thing that will shock any interested observer is that even within government in Nigeria today, MDGs mean different things to different people. Very few of our elected or appointed officials and politicians know what you mean by MDGs. And that is the sad truth! And so how can you promote or rather work towards what you do not understand? Even among the core ministries, how many officials have a nuanced understanding of the goals and targets and how their current and future work plan hopes to achieve these goals? I have looked at the eight goals and concluded that these are not what government can achieve alone. Everyone, from government to private sector to the civil society and even families have a role to play. Have those roles been defined? Have everyone a clear understanding of what sort of contribution each have to make to ensure a collective success. What of the three tiers of government? Are their programs coordinated enough? Is it a competition or collaboration? And what is the basis of our optimism?
Before I forget, let us look at this cholera epidemic more closely. Cholera is water borne disease that can be transmitted mostly when contaminated water comes in contact with food materials and ingested. It is often prevalent in communities where there is no access to good water and sanitation. Put in simple terms. Show me a community where people are dying of cholera, I will show you one where there in neither access to portable drinking water or proper sanitation. Access to clean water ought to be a right of every Nigerian; that is, if our resource base, foreign exchange earnings, national reserves or even the insensitive profligacy of our leaders offer any useful parameter for measurement. But an excursion to the statistics is both shocking and revealing. According to Nigerian water and sanitation fact sheet published by Water and Sanitation monitoring platform, Nigeria has a population of approximately 150 million. Out of this number in 2006 only 65 million persons had access to adequate water supply while 74 million do not. On sanitation 42 million persons had access to adequate sanitation while 98 million persons do not. And these figures refer to urban areas. The level of access and coverage in our rural communities will be more damning.
With this level of coverage, one can imagine what hope there is to achieving Goals 4, 5 and 6 which relate directly to water supply and sanitation. For instance malaria eradication in goal six cannot be achieved unless we have adequate water and sanitation. Even the health of a child and mothers in goal 4 and 5 will be threatened by water borne infections like cholera. The level of coverage of water supply for instance contrasts sharply with 1.04 trillion naira which Jonathan's adviser Amina Zubairu claims have been spent on MDG projects.
The achievement of MDG in Nigeria is very critical to the overall progress of Africa in this regard. So we cannot afford to fail. Rhetoric is no longer acceptable. Sermonizing at international conferences or painting a deceptive picture that "all is well" before our friends and partners has now become anachronistic. What we have to do is to confront the facts and attack the problems in a coordinated, fact based and result oriented manner. It is insulting to see that Nigeria is still one of the countries where diseases already eradicated completely in many countries ambush and kill our citizens before a careless government. President Goodluck Jonathan should lead the action in Abuja, Bauchi, Lokoja and Yenagoa to stop avoidable deaths of Nigerian citizens as a result of preventable diseases. The battle is to change the reality at home and not the image in New York and Washington DC. He whose house is on fire cannot be running after rodents!
Uche Igwe is a Woodrow Wilson Policy Scholar and Visiting Scholar at Africa Program, the Paul H. Nitze School of Advanced International Studies (SAIS), Johns Hopkins University Washington DC USA.