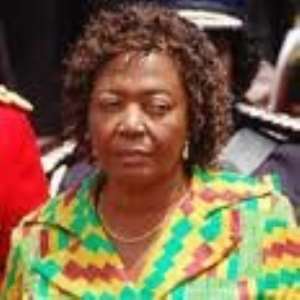 It is said that women are their own enemies. This saying has been reinforced by the attitude of the first lady Naadu Mills towards her predecessor Nana Konadu Agyemang Rawlings. She was reported in the chronicle newspaper and other news portals on Thursday 24th June 2010 that she refused to sit by the former first lady at an international function in Brussels in April this year. Though the report on the World Wide Web was a bit exaggerated, the fact on the ground showed that Naadu Mills's behavior on the day in question was unbecoming of her stature as the first lady of Ghana.
What were the underlying reasons for her refusal to sit beside her predecessor on the high table at an international conference? By her behavior, Naadu Mills did not only insulted Nana Konadu but Ghanaians in general. Her behavior was very condescending, offensive, reprehensible and unacceptable. What was all this about? This disgraceful attitude of Naadu Mills clearly depicts all the negative things people say about her. And she claims to be a Christian. She is a disgrace to womanhood. Naadu Mills must be ready to learn diplomacy that goes with her present status and not a headmistress where she treated every teacher under her as a second- class citizen. Despite her chronological experience in education and national politics, the inability of Naadu Mills to acknowledge the infeasibility of the blurry vision and twisted policies of the Mills administration, makes me question her intellectual capability and sophistication in grasping the dynamics of intra-party politics.
In my opinion, Naadu Mills goofed badly by her conduct and her behavior was unbefitting of a first lady and an educationist. The unashamed attitude of Naadu Mills is a mere veneer beneath which hypocrisy and treachery are revered political values under the current dispensation.
If there is an achievement differential between Naadu Mills and Nana Konadu Agyemang Rawlings, then Naadu Mills should not pander to the Ghanaian public for sympathy. After all, the average Ghanaian has the intellectual ability to make a critical assessment between an imaginary Christian and the "devil". Can Naadu Mills cite any corporeal examples of her achievements and service to the nation under the current dispensation? What has she done to improve the lives of women and children in society after she became a first lady? Almost all first ladies after independence have one project or the other to their names and I can not see any significant project that Naadu Mills is involved in as a first lady of Ghana. Instead of involving herself in productive ventures, she is out there snubbing pillars of society, at an international forum. What a cheek?
For nineteen years Nana Konadu have been on the forefront of women empowerment in this country and for Naadu Mills to show such gross disrespect towards her the manner she did is downright obtuse and utter gibberish.
We should be spared of these shameless shenanigans of this woman. If she does not want the public to criticize the policies that is bound to negatively affect the whole nation, she can choose to go down along with her husband by advising him to step down as a president. Whilst other nationals are putting resources together to become stronger in this twenty-first century, we in Ghana are fond of building huge divisions and ways of pulling ourselves down. Whether it is inferiority complex, attitudinal problem or whatever it is, Naadu Mills must remember this adage that, "you don't look down on people who help you reach the top, for when you are coming down it is the same people you meet". In a country where decency and courtesy is cherished and uphold, should we allow Naadu Mills to continue with her reckless and stinking shenanigans?
Is it astute to choose quietness over engagement, when the behavior of our leaders violet cultural decency, and treat their fellow leaders with little respect? What reasonable person would express happiness over Naadu's Behavior? Have we forgotten the saying that "you don't bit the hands that fed you"?
I mourn over the lack of consciousness among some of our leaders, and our needless justification of government policies and an elitist conduct that put our freedoms and dignity at risk. What has become of us? Were we not, once a united people under one umbrella? Was not Rawlings' NDC the party that raised the standard of governance in this country? As trusting citizens, we have allowed ourselves to be treated as thoughtless children who need directives from the nation's wily politicians. For some time now, we have placed our hopes on our nations' infirmed leaders only to be shortchanged. We have also tolerated destructive ethics that work against the fundamental values of our nation. When did the NDC that was blessed with competent leaders start producing rulers with weak characters? When did treachery become part of governance?
Nana Konadu is paragon of greatness and has left an ineffaceable legacy for this nation and if that is what triggers her infantile behavior, we careless.
Advertisement
Those in the NDC who have carved notoriety for themselves, and have rejected reason should be told in plain language that enough is enough. And if the likes of Naadu Mills cannot withstand intellectual engagements, she should find something productive to do with her life, on a different world of her own. Those who have made it their daily habit to attack the dignity of the Rawlingses must be condemned unreservedly, and should be told in no uncertain terms that the Rawlingses are a force in the NDC and they can not be wished way.
Rather than tolerate plurality, the President's inner circle continue to use their positions as a platform to engage in behaviors that are untypical of NDC. Not only is their gate keeping attitude a disgrace to our nation, it also exposes to the outside world the level of our intellectuality, and crudity in accommodating opposing views.
Decency plays a critical role in human behavior, and there cannot be any justification for its misapplication or abuse, for that matter. Rather than engage these nomadic minds and rabble rousers, and fall knee-deep, into their maggot-filled cesspit, the Rawlingses must exercise maximum restraint to preserve their nobility, and stature among their admirers. After all, there will be no NDC without the Rawlingses. The party must re-position itself and get rid of these political vultures, and must not leave the party at the mercy of "agent provocateurs" whose sole aim is to destroy the party with their politics of patronage and entitlement.
Let's deny these unscrupulous characters the unsavory reputation they are desperately seeking to earn. A fool will always sing a song, and reject the admonition of the sage that, this is the time for solemnity, and not time for crass behavior.
Naadu Mills should be a mother for all Ghanaians and must extend a hand of mother to her husband's son and help the husband to eliminate socio-economic exploitation in Ghana. By that, she will have her name written in gold and her statue higher than that of liberty in the hearts of people.
We shall be back!

Emmanuel Dela Coffie
[email protected] / www.delacoffie.wordpress.com