Kwesi Botchwey dares critics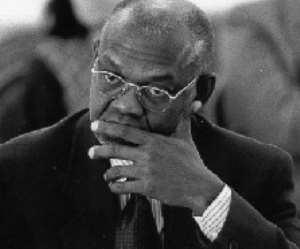 "If anyone of you is without sin, let him be the first to throw a stone at me…' It was with this almost verbatim quotation from John 8:7 that Dr Kwesi Botchwey warded off a media attack launched on him with the alleged amorous relationship he enjoyed with a foreign diplomat when he was Ghana's Finance Minister in the early 100s as a weapon.
For a brief period, nobody could fire anymore salvos just as the Bible says the teachers of the law and the Pharisees who shoved the adulterous woman before Jesus Christ could not stone her. But unlike the Bible situation in which the accusers quit, the journalists who had gathered at the old Arts Centre stayed but broke into laughter while some party followers present clapped in admiration of their hero's apparent success at tackling the embarrassing question.
It was question time after Botchwey had eloquently delivered a five-page speech laced with many unwritten illustrations to launch his bid for the candidature of the National Democratic Congress (NDC) for the 2004 presidential elections. Then a reporter asked whether he was, at that moment, married or single, he also asked him to speak to the issue of impregnating the flamboyant Canadian High Commissioner to Ghana, Ms Scrimshaw, and say whether he had abandoned or was catering for their child.
"Ato Sam awo abofra bon," Dr Botchwey stated jovially in Fanti, accusing the questioner of being a rabble-rouser before throwing the biblical challenge. The aspirant then took the bull by the horns by admitting he had been dating the diplomat as a result of which they had an issue. He added that the girl was doing well and that he remained single because the two of them never got married, even though he had divorced his earlier wife.
As would be recalled, Chronicle broke the news of Dr Botchwey's sizzling affair with Ms Scrimshaw in about 1994. from the vivid description of their relationship, the nickname Black Mamba emerged for the then Finance Minister, Ms Scrimshaw was withdrawn from the diplomatic service by her government for what it allegedly considered an indiscretion and Dr Botchwey also resigned in 1995 after months of incompatibility with his employer, Jerry Rawlings.
Observers see Dr Botchwey's last Saturday answer not only as a repetition of what Jesus said in Jerusalem but a playback of what Gen I.K. Acheampong, one time Ghana's Head of State said at his trial before an Accra kangaroo court set up by Flt Lt Rawlings' Armed Forces Revolutionary Council (AFRC) in 1979.
When asked to confirm or deny whether he had established for himself a whole platoon of girlfriends, he reportedly snapped back, "when dusk fails, how many of you sleep with your wives alone?"
Another criticism that generated a question for Dr Botchwey to answer was that he deserted the party after resigning, for seven years, and now finds the time ripe enough to return to launch his campaign for presidency on the ticket of the very party he abandoned.
But the law lecturer elaborately narrated his role as a founding member of the People's National Defence Council (PNDC) and, the leading roles he played in that junta till it metamorphosed into the NDC, which he dutifully continued to serve as Finance Minister till he resigned. After 1995, he remained in close touch with his constituency in the Central Region even from abroad, he asserted.
"My heart palpitates when people say I joined the table when the food was well-cooked. Some of those making that accusation joined the train when it had left the station…", he added.