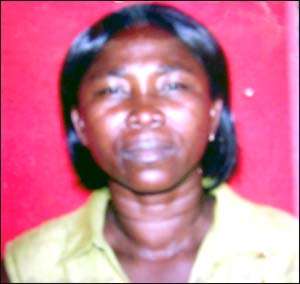 GERSHON ANKU Gbetianu, an employee of AngloGold Ashanti (AGA) in Obuasi, has been arrested in connection with the death of his wife, Janet Agnes Fia, who was a teacher at Corner Memorial Model Methodist School in the Golden City.
The suspect is believed to have killed the 50-year-old woman.
 Agnes Fia was admitted at the Komfo Anokye Teaching Hospital (KATH) around 9:30 pm on Friday, March 26, 2010, with her throat slit open; she died two days later.
Mr. Anku Gbetianu, who has been married to the deceased for over 15 years, claimed she was mentally deranged and took her own life with a kitchen knife. He however failed to notify the police about her death and covertly performed her one week ceremony ahead of the funeral rites.
DAILY GUIDE gathered that he was arrested upon a tip-off to the police in his hometown, Tafi Abuife, in the Hohoe District of the Volta region, after he had gone there to give account of events preceding the death of his wife, and was later brought to Obuasi.
 The suspect had been accused of murdering his wife and was hurriedly preparing to bury the body in order to outwit law enforcement officers and relatives of the deceased when the alarm blew on him.
He has been remanded in custody by an Obuasi Magistrate Court presided over by Kofi Owusu Sekyere, to reappear on April 29, 2010, while investigations are underway.
A daughter of the deceased, 33-year-old Judith Apenyo, alleged that her mother until her death, submitted to severe beatings by Mr. Gbetianu (the husband), who sometimes lashed her with wires, aside other spousal abuses.
According to her, a few days before her death, her mother visited her (the daughter) in Accra sporting a black eye, which she alleged was a result of a punch from her husband.
Madam Apenyo said she heard of her mother's death on Saturday, March 28, 2010, and rushed to Obuasi to find out the cause of her demise only to be told by the father that the deceased took her life, by slashing her throat with a knife.
Advertisement
According to her, Mr. Gbetianu told her the deceased passed away at KATH after she was referred there by medics at AGA Hospital, indicating that she suspected foul play when her father dismissed a suggestion from her for a post-mortem to be conducted on the deceased.
The displeased young lady said the suspect indicated that it would be an embarrassment to the family and especially for her, as she is the eldest daughter, for people to know the cause her mother's death. She also pointed out that neither did her father agree for a report to be made to the police, suggesting it was unnecessary.
The deceased, mother of four, who was living at Anyinam Estate in Obuasi with the suspect, was in the process of seeking for a transfer from her employers, the Ghana Education Service, in order to move from Obuasi to Tema.
"My mother even told me my father demanded a divorce letter as a pre-condition for her to be allowed to be transferred to Tema," the deceased's daughter submitted.
The daughter said the story being told by her father that her mother took her own life as a result of her mental problem is an attempt to extricate himself from the murder case.
From Ernest Kofi Adu, Obuasi