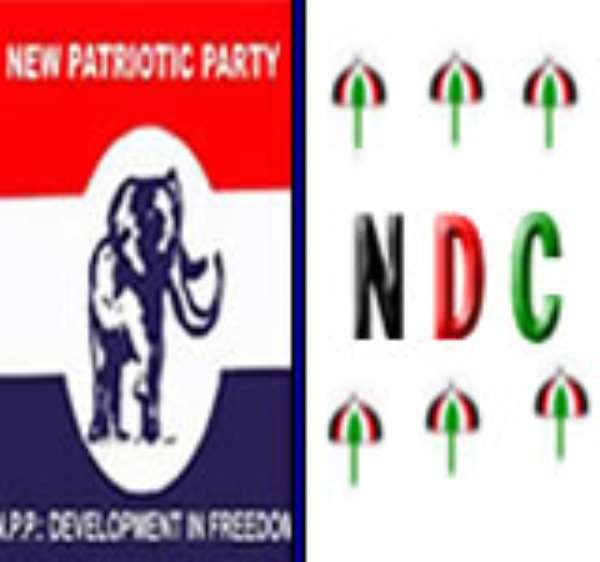 THE NEW Patriotic Party (NPP) has expressed its disgust at the spate of lies the NDC government is churning out about the economy. 
Contrary to a   statement the NDC Government stated on June 26, 2009, to the effect that the "Real GDP growth increased steadily from 3.7 percent in 2000 to 7.3 percent in 2008," the Minister of Information on April 8, 2010, ten months after this testimony about the NPP government's record, reportedly said -"As we all know, the problem with inflation and the generally deteriorated economy prior to 2009 was the result of overspending and misplaced priorities."
The NDC then said -"This growth was fostered by significant debt relief which provided the country with fiscal space to embark on critical infrastructure investments, particularly in the energy and road sectors, as well as targeted social spending, all under the Ghana Poverty Reduction Strategy (GPRS).
The combination of higher output growth, declining inflation and improved social spending under the GPRS framework contributed significantly to lower poverty levels. The national incidence of poverty declined from 39.5 percent in 1998/99 to 28.5 percent in 2005/06. At this rate, Ghana is poised to achieve the Millennium Development Goal (MDG) of halfing extreme poverty ahead of 2015."
But a statement issued by the NPP on Monday and signed by the party's Communications Director, Mr. Kwaku Kwarteng has wondered why the NDC's double tongue.
He explained the fact that NDC the government has realised that it cannot bring any improvement to the lives of Ghanaians, and indications are that the NDC has failed Ghanaians.
According to the Communication's Director, life is becoming increasingly harsh for many people and that instead of admitting their failures and asking for advice, the NDC has decided to put the blame on the previous NPP government by lying, hence the 180 degree change in their language about the NPP's record.
Presenting the correct  picture with facts and figures, Mr. Kwarteng said when the NDC assumed power from the NPP, an 'olonka' of gari cost GH¢1.20 (¢12,000) which has now shot up to GH¢2.00 (¢20,000), a year later.
Mr. Kwarteng cited  further instances regarding prices of items in January 2009; A tin of milk at 65p (¢6,500) has shot up to GH¢1.00 (¢10,000); 'olonka' of rice -GH¢3.50 (¢3,500) against GH¢4.50 (¢45,000); Note 1 exercise book-GH¢1.50 (¢1,500) which cost GH¢3.50 (¢3,500) currently; 1 litre Gino oil which  sold at GH¢1.20 (¢1,200) and now sells at GH¢2.50 (¢2,500); while 'Charlie Wote' (Bathroom slippers) which cost 60p (¢6,000) then, now sells at GH¢1.20 (¢1,200).
Continuing with his presentation, Mr. Kwarteng said a bag of Cement then sold at GH¢8.50 (¢85,000) now sells at GH¢12.00 (¢120,000); 1 kg Bread is now GH¢2.00 (¢20,000) against GH¢1.00 (¢10,000) in January 2009, while a Single room at Awoshie is currently attracting GH¢25.00 (¢250,000) monthly rent, instead of GH10.00 (¢100,000) a year ago.                                 
Mr. Kwarteng indicated further that under the NPP, when crude oil price was at US$147 per barrel, a gallon of petrol sold for GH¢5.2, the same price the NDC is selling petrol per gallon.
He said even when crude oil is at US$82, the NDC government cannot manage the petroleum sub-sector, leading to frequent fuel shortages and resulting in vulcanizers, fish-farmers, bread-bakers, tro-tro drivers, taxi-drivers and other informal sector operators and their families going to bed on empty stomach whenever these shortages happen.
Mr. Kwarteng pointed to the disturbing situating of power cuts or "light offs" which have become rampant these days, disrupting the businesses of ice-kenkey sellers, mechanics and other petty traders and artisans, whose activities depend directly on electricity supply. Further, interruptions in the supply of both electricity and petroleum fuel affect production in bigger companies, exposing industrial workers to lay-offs. 
In these circumstances, the NPP has suggested that the NDC government comes out with bold initiatives and strategies to deal with the challenges and restore the livelihoods of the affected Ghanaians as any responsible government would do.
The NPP also urged the Atta Mills led administration to stop praising itself for the creation of non-existent 1.6 million jobs when NDC foot soldiers who would have been the first to benefit from such job-creation are complaining bitterly all over the country.
According to Mr. Kwarteng, hardship is intensifying because this government is spending national resources on the wrong things. "While trotro drivers are paying an exorbitant GH¢1 or ¢10,000 across toll booths, government officials spend this money drinking tea and eating 'chichinga', he noted.
Following the aforementioned instances, the NPP is convinced that the NDC cannot manage this country and is making the lives of Ghanaians worse. "Life is getting worse by the day and the earlier they accepte this fact and seek advice and help, the better it would be for this country", Mr. Kwarteng admonished.