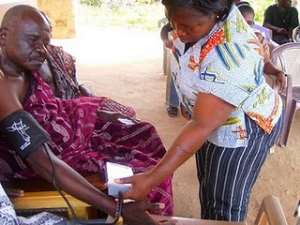 Hayford Siaw, Executive Director of Volunteer Partnerships for West Africa (VPWA) on Saturday donated hospital equipments and materials to Amanase Community clinic as part of his organization's support to community health clinics in Ghana. The donation which comes in response to the community's appeal for support aired on TV3 network, a local TV station brought joy to the health workers, patients and the entire community.
The presentation which took place in Amanase, a rural community in the Eastern Region of Ghana was Chaired by the Chief of the community and facilitated by Action Youth Club, a local youth group that initiated the clinic project in the community.
The items presented by VPWA include Drip stand, Ambubag, Digital BP Monitor, Urine folley Catheters, Ganze roll and Cotton Wool. Besides the above equipments, VPWA also donated three ceiling fans to be installed in the health facility to offset the heat that health workers and patients endure in the clinic. VPWA has also announced that it will sponsor 30 needy families in the community to subscribe to the National Health Insurance Scheme so they can access health care for free.
Already, VPWA Health Volunteers continue to assist in health delivery in the community clinic.
The District Health Director of Suhum , the Action Youth Club, Health Workers and the Chief and People of Amanase express their gratitude to Mr Siaw and Volunteer Partnerships for West Africa for heeding to their call for help and making this donation to them.
NGO News Africa.
Originating at www.ngonewsafrica.org