B/A Honours Citizens, Others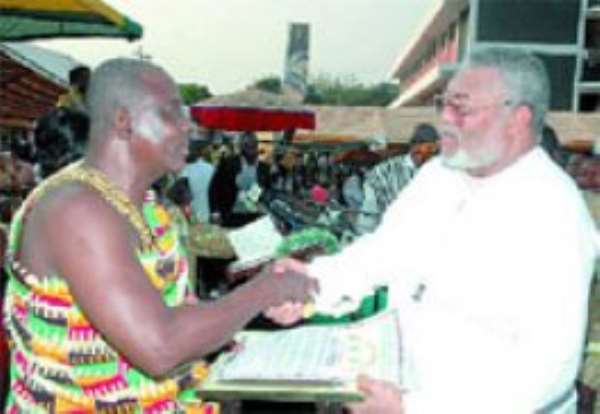 Pemanpam Yaw Kagbrese, Yejihene and Vice-President of the Brong Ahafo Regional House of Chiefs, presenting a plaque to former President Rawlings.
Former President J.J. Rawlings has called on Ghanaians to support President J. E. A. Mills in his quest to deliver on his electoral promises.
He said President Mills had good intentions for the country but achieving them would demand the support of the entire citizenry.
Former President Rawlings made the call at the Golden Jubilee awards ceremony organised by the Brong Ahafo Regional Co-ordinating Council (RCC) in Sunyani on Saturday to honour citizens of the region for their immense contribution towards the development of the region.
The ceremony, which climaxed activities marking the 50th anniversary of the creation of the Brong Ahafo Region, was attended by a large number of people.
Former President Rawlings, who was the guest of honour, stated that his criticism of President Mills should not be misconstrued as an attempt to wash the NDC's dirty linen in public. Rather, it should be seen as a self assessment to enable the President to deliver to the expectation of Ghanaians.
In all, 104 individuals and corporate institutions were honoured at the ceremony for their meritorious services to the Brong Ahafo Region.
Prominent among the awardees were former President Rawlings; Mr Ernest Apraku, the Managing Director of Asuo Bosomadu Timbers and Sawmills Limited; Nana Kwasi Gyau Gyan, aka Agyemang Gyau; Mr Maxwell Oti Yeboah, the Managing Director of Oti Yeboa Complex Limited; the late Catholic Bishop of Sunyani, the Rt Revd James Owusu; Mr James Baah, Senior Photographer, Graphic Communications Group Limited, Sunyani, and Mr Kwame Asare Boadu, the Ashanti Regional Editor of the Daily Graphic.
Others were the Minister of Lands and Natural Resources, Alhaji Collins Dauda; the Minister of Chieftaincy and Culture, Mr Alex Asum Ahensan; Mrs Cecilia Johnson, a member of the Council of State, and the Brong Ahafo Regional Minister, Mr Kwadwo Nyamekye-Marfo.
The ceremony was chaired by Pemampem Yaw Kagbrese, the Yejihene and Vice-President of the Brong Ahafo Regional House of Chiefs.