Don Warns Charlatans Against Use Of 'Dr' This, 'Bishop' That etc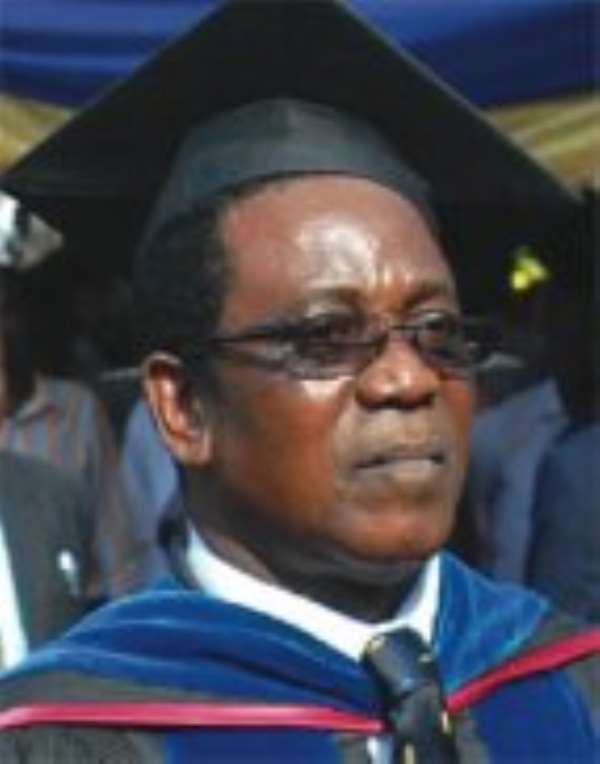 Prof. Kwesi Yankah — Pro-Vice Chancellor of the University of Ghana, Legon,.
The Pro-Vice Chancellor of the University of Ghana, Legon, Professor Kwesi Yankah, has called on the intellectual community to intervene and halt the "gross misuse" of titles and academic honours by people he describes as "impostors and charlatans".
He said the abuse and fraudulent use of titles and academic honours are rampant among people in the clergy and politics and warned that the current proliferation could trigger a major devaluation of honours and academic credentials in the country.
Addressing the topic, "The Golden Age of titles and pseudo degrees" at a symposium organised by the Ghana Academy of Arts and Sciences (GAAS), Prof. Yankah said from the realms of politics and religion to the arena of business, the wider society and even academia, academic titles and honours appear to have been grossly defaced by "impostors and academic charlatans".
One of the disputed titles prominently captured on the list of Prof. Yankah is religious honorifics in which case lay preachers, without due process, have elevated themselves overnight as Pastors, Reverend Ministers, Bishops and Archbishops, bypassing laid down procedures in the conferment of such professional positions.
Prof. Yankah observed that "the proliferation of fake religious titles partly stems from a general boom in religious entrepreneurship over the years, and the expectation that grand titular prefixes could boost patronage, more so if it has an academic embroidery".
"Some of the titles, particularly those purported to be international, turn out to be nothing but phoney street side commodities that are subject to normal price negotiation and payment.
Indeed the awards and honours industry is now a lucrative business, which has found fertile grounds in the local penchant for pomp and pageantry," he observed.
"It is indeed a pity that we have looked on as an academy, and not intervened to salvage the beleaguered knowledge industry," he stated in the paper he delivered at the three-day symposium in Accra as part of the Golden Jubilee celebrations of the GAAS.
Prof. Yankah observed that, "The chaotic deployment and stringing of epithets only devalues the discipline of title investiture, blurs the distinction between mediocrity and excellence, and deprives society of opportunities to isolate its cherished values."
"In the realm of academia," he added, "it compromises the quest for excellence and subverts the exacting standards set by society to recognise its best brains."
According to him, the issue had been compounded by "the public's reverence for academic titles, and the assumed capacity of lofty epithets to expedite one's rise to fame and political power, whether as minister, member of parliament, municipal or district chief executive".
He said there was a general perception, for instance, that high academic laurels of an aspirant to political office, could enhance his credibility and capacity to canvass for local and national development.
Prof. Yankah blamed the situation partly on the absence of regulatory frameworks strictly enforced by accredited bodies or professional associations seeking to set standards and guidelines for title use.
"The silence of professional bodies over the misapplication of honorifics has wrought complete chaos in the ordering and meaning of titles, as well as their social applications," he noted.
Prof. Yankah said the display of intellectual dishonesty, through the acquisition of false titles and accolades, could be considered a blatant attempt to undermine social ideals founded on a time-tested reward system that was performance driven.
He said if hard work and excellence were applauded by society, it was also because lofty honours were not haphazardly conferred, adding that titles and laurels were most enduring if bestowed by accredited individuals and institutions of high esteem.
Prof. Yankah said in the misuse of titles in Ghana, the problem had been further compounded by the fact that such promotional attainments as professor had no verifiable documentation, such as a certificate, or public ceremony, and so it was only the relevant source institution that could testify to the elevation.
He said in situations where one sought to transfer one's professorship title to another institution, the institution had every right to subject the person's research output to further assessment before the professorship title could be accepted in the new setting.
"This has indeed been applied in many universities and is accepted as conventional. Simply put, professorships are not automatically transferable unless confirmed by appointment in another institution," he remarked.
Commenting on the misuse of the title 'Emeritus', Prof. Yankah explained that the title in academia was conferred on retired Professors who were still active in their discipline and had agreed to spend time in the university mentoring, advising or as subject matter experts.
He said in certain universities, the title was automatically conferred on all retired professors in good standing, while in others, such as the University of Ghana, it was subjected to deliberations and a vote.
"The title 'emeritus' is so abused in Ghana that even though used largely as a supplement to the professorial, people have used Professor Emeritus, even where the professorship has not been earned in the first place," he remarked.
Prof. Yankah said the accretion or accumulation of academic and professional titles did not make honourees the sole agents or standard bearers in national development, pointing out that national development was a collective responsibility with a multitude of actors and agents.
He urged the GAAS to stay the original course espoused by its founder, Dr Kwame Nkrumah, and invite to fellowship not only with academics and professors, but a variety of scholars and practitioners, including people from industry, various professional groups, the world of business, and young promising scholars, whether or not they had chains of academic honorifics.
"Titles themselves do not make a nation. As an academy with very high achievers, we should indeed enable our actions to speak louder than our titles," he indicated.