September 5, 2009
|
General News
AMA boss recommends scientific approach to sanitation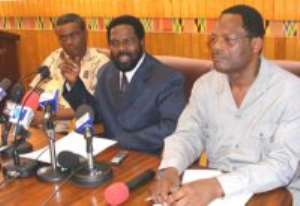 The Chief Executive Officer of AMA Alfred Vanderpuije has recommended a more scientific approach to solve the sanitation problem in the country.  Mr. Vanderpuije was speaking at the launch of Ghana Innovation Marketplace 2009 in Accra. 
Ghana Innovation Marketplace is a competition that seeks innovative strategic solutions to Ghana's growing problem of Solid waste Management.  He said 2,000 tones of waste is generated everyday, and to help forestall this challenges, the AMA has taken a decision to introduce a waste to Energy concept. 
Mr. Vanderpuije disclosed that this concept is a system for powering electricity generators, and is renewable because its fuel source, garbage; is sustainable, does not get depleted and also reduces pollution.