Burma's Aung San Suu Kyi 'guilty'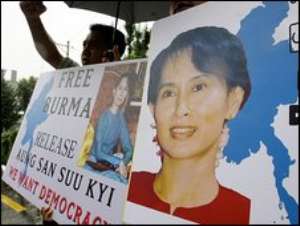 There have been international calls for Ms Suu Kyi's release
Burmese pro-democracy leader Aung San Suu Kyi has been sentenced to an additional 18 months house arrest by a court in Rangoon.
Ms Suu Kyi, a Nobel peace laureate, was convicted of violating state security laws by allowing a US national into her lakeside home after he swam there.
She was jailed for three years with hard labour, but this was commuted to house arrest, an official said.
American John Yettaw was jailed for seven years, four with hard labour.
Ms Suu Kyi, who has spent nearly 14 of the past 20 years in detention, had denied the charge but said she expected to be convicted.
Journalists had unexpectedly been allowed to enter the courtroom in Rangoon's Insein prison shortly before the sentence was announced.
Following the reading of Ms Suu Kyi's sentence there was a five-minute recess before the country's home minister entered the courtroom and read out a special order from Burma's military ruler Than Shwe.
The order said he was commuting the sentence and that it could be served under house arrest.
The trial has brought international condemnation, with critics accusing Burma's military government of trying to keep Ms Suu Kyi out of elections next year.
Mr Yettaw, 54, swam to Ms Suu Kyi's lakeside house in Rangoon and stayed there for two nights in May.
He is believed to have epilepsy, diabetes and post-traumatic stress disorder and has been treated at a Rangoon hospital.
Reports say he was discharged from hospital on Monday night after a week of treatment for epileptic seizures.