38 Ganja Farmers Arrested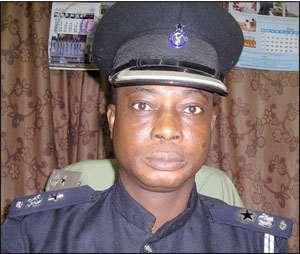 ACP Awuni, Northern Regional Police Commander
THE TAMALE Metropolitan Police Command, in an operation led by its commander DSP Caesar Abanga, has raided major wee empires within the metropolis and arrested 38 persons suspected to be dealing in dried leaves suspected to be Indian hemp.
The suspects who are currently in police custody awaiting screening were arrested in notable wee joints in an operation aimed at curbing criminal activities in the city.  
Aged between 17 and 35, the suspects were arrested at the Gumani, Aboabo, Tishiegu and Savelugu forests in the early hours of Saturday.
These areas have in the past been the hideout for drug addicts though it was known to a section of security operatives.  
 At the time of the arrest five out of them were in possession of some dried substances suspected to be Indian hemp or "Wee".  
Most bushy areas in the city in recent times had been turned into havens for wee smokers who were alleged to be engaged in other criminal activities.
Most of them, reports say, sometimes raped women who dared step in their territories while others used such areas to hatch criminal plans.
DAILY GUIDE gathered that most these were also used in cultivating wee in large quantities and therefore feared people who came around could blow their cover.
Until now, the wee smokers had turned these areas into their homes and were also seen at bushy areas at odd hours, which suggested that they had criminal plans.
 Soon after the mass arrest, the police pledged their determination to rid the city of criminal activities and allow residents go about their daily business without fear of intimidation.
A major road cutting across one of the thickest bushes, which served as a linking road to Nyohani and Hilltop, both suburbs of Tamale, was a notable place for wee crusades at night.
City authorities provided street lights for the area to ward off such immoral actions but the wee smokers switched to other areas as their presence could be noticed by road users.
From Stephen Zoure, Tamale