French President Falls Sick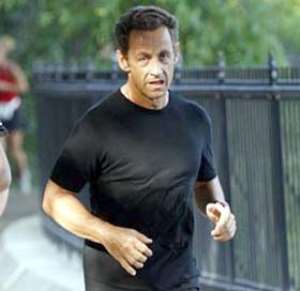 French President Nicolas Sarkozy is a regular runner
French President Nicolas Sarkozy has been taken to hospital after becoming ill while jogging, his office said.
Mr Sarkozy's chief of staff said the president was "doing well" and talking normally with medics at the military hospital, AFP news agency reported.
Earlier, aides told AFP that the 54-year-old president was suffering from a "minor" nerve complaint.
He had immediately been seen by his doctor after "feeling faint", his office said.
Mr Sarkozy's office said he will leave hospital on Monday.
The incident happened at the president's weekend retreat near Versailles, outside Paris, and he was taken to a military hospital, AFP said.
The agency reported that Mr Sarkozy had suffered a vagal nerve attack, adding that it could involve a brief loss of consciousness and change in the heart rate.
The vagal nerve is a major nerve that runs from the abdomen to the brain and controls many functions.
Mr Sarkozy is regularly seen running and is a keen cyclist.
The Elysee Palace said earlier this month that his last medical examination - on 3 July - showed normal results for cardiovascular and blood tests.
Shortly after his election, his first medical bulletin showed him to be in "good" health.
He campaigned for greater transparency of presidential health bulletins during his presidential campaign, yet a brief hospital stay in late 2007 was not revealed until three months after it happened.
Several French presidents have been accused of glossing over health problems, notably the late Francois Mitterrand, who concealed that he was seriously ill with cancer. BBC