Wild Hunt For "Burger" Robber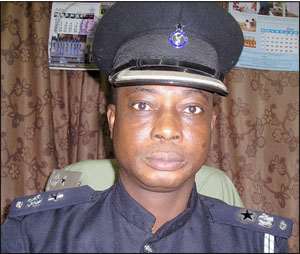 ACP Peter Awuni Angwubutoge
POLICE IN Napkanduri in the Bunkpurugu-Yunyoo district of the Northern Region have been instructed to track and hunt down a notorious armed robber, one Johnson alias Burger. 
The activities of the bandit who is an ex-convict is threatening the security in the area as he terrorizes residents and travelers in the eastern corridors of the region.  
The Northern Regional Police Commander, , charged the youth in the area to collaborate with the police in hunting down the criminal, promising a ransom for anyone who provides vital information leading to the arrest of Johnson.  
The alleged criminal, it was disclosed, enjoyed the support of some members of the community and for that reason security personnel in the district were finding it difficult to locate and clamp him down.  
Meanwhile, ACP Awuni has kick-started a tour of police stations and other establishments and has so far visited the Gambaga, Nalerigu, Bunpkurugu and Walewale district police stations to acquaint himself with issues confronting his men on the ground.  
He disclosed that the tour was as a result of the total neglect these areas have witnessed over the years, expressing his desire to improve the conditions of service of personnel in the area.  
The Commander earlier made a whistle stop at the offices of the East Mamprusi district assembly at Gambaga where he interacted with the DCE Adam Imoro.  
He held talks with him on improving the collaboration between the assembly and the police in a bid to get better security in the district.  
The DCE pledged a vehicle to help in patrols and also pledged to allocate a share of the District Assembly Common Fund (DACF) to help renovate the apartments in the district.
 At Nalerigu, ACP Awuni and his entourage paid a courtesy call on the overlord of the Mamprugu Kingdom, Nayiri Naa Bohagu Mahami Abdulai.  
He called on the Nayiri to prevail on his sub-chiefs and subjects to form neighbourhood watchdog committees to partner the police in fighting crime.  
 ACP Awuni, who later visited the police barracks both in Nalerigu and Gambaga and was saddened by the living conditions of his officers.  
Rounding up the first part of his tour in Walewale in the West Mamprusi district, he called on officers to be disciplined and punctual on all occasions.  
He took a swipe at uniformed personnel for failing to attach name tags and slammed corrupt officials at police barriers and other security checkpoints.   
From Stephen Zoure, Tamale