Obama's Ghana Trip Linked To New U.S. Oil Strategy on African Continent, says Gold Star Resources CEO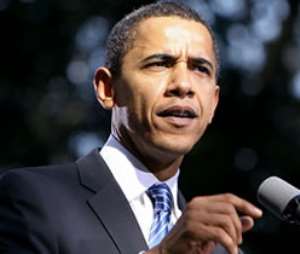 U.S. Oil Imports From West Africa Will Hit 25% by 2015
VANCOUVER, July 9 /PRNewswire-FirstCall/ -- "U.S. President Barack Obama's trip to Ghana on July 10th-11th is a subtle White House oil strategy to secure another source of energy on the continent of Africa," says Patrick Morris, Chief Executive Officer of Gold Star Resources Corp. (TSX-V; GXX; OTC Bulletin Board: GXXFF; www.goldstarresources.com). Gold Star Resources is a Vancouver-based company seeking high-impact 'onshore' oil and gas opportunities in Liberia, Cote d'Ivoire and Ghana in West Africa. The company recently announced its acquisition of International Resources Strategies Liberia Energy Inc. (IRSLE). Gold Star also announced that it signed a Letter-of-Intent with Bengal Bight Ghana to acquire 100% of the hydrocarbon rights to the Tampoum mining concession, approximately 1,000 square km, in Cote d'Ivoire.
According to Morris, "The U.S. Department of Energy has already confirmed that the United States will be importing over 770 million barrels of African oil annually by the year 2020. The U.S. National Intelligence Council is projecting that 25 percent of U.S. oil imports will come from West Africa by 2015 compared to 15% today. My own professional experience tells me that the political stability of Ghana's government, a credible democratic political party system, and a positive investment environment all favor closer ties to Ghanaians by the Obama White House."
Morris also pointed out that he's confident that President Obama "will work with the Ghana Government and people to help them realize their own potential through job creation in the energy resource sector. I believe that Africa has seen but a glimpse of its potential in oil and gas discoveries in West Africa. The new U.S. President has obviously taken notice of this fact."
"Obama's Ghana trip is a smart game plan to strengthen U.S. ties with its West African allies and create new alliances that would ultimately secure U.S. energy interests on the African continent," concluded Morris.