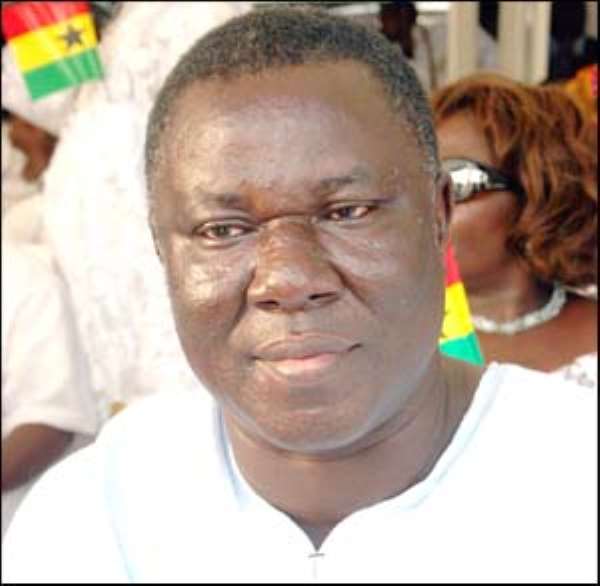 Joe Gidisu, Road and Highways Minister DAILY GUIDE can authoritatively say that there is no plan to initiate new contracts this year in the road sector across the country due to the outstanding huge debts the sector is said to have been saddled with.
The move, according to officials, is to enable the road sector to clear the existing debts, where the government owes road contractors huge sums of money due to unpaid contracts. It is also to allow the road fund, which is the main financier of the road sector, to generate more income in order to fund fresh contracts next year.
This disturbing revelation was made by the Sunyani Municipal Roads Engineer of the Department of Urban Roads, Edward Nyonator, during the meeting of the Environmental/Sanitation and Works Sub-Committee of the Sunyani Municipal Assembly on Monday.
The directive is expected to affect the operations of the nation's major road managers, which includes the Ghana Highway Authority, the Department of Urban Roads and the Department of Feeder Roads.  
In order words, no periodic maintenance involving reconstruction, resurfacing and upgrading of any road in Ghana will be awarded to contract this year with the exception of the ongoing ones.
Mr. Nyonator told DAILY GUIDE upon further enquiries that the road sector has over-committed itself by awarding contracts and projects more than their budget could support and as a result, they owe contractors billions of cedis which needs to be cleared off before new contracts are awarded.
The negative repercussions on this directive are enormous as many communities will be virtually cut off from other parts of the country since the bad road networks in those areas will not receive any attention from the government.
Analysts believe that the move can also affect the nation's food security as many rural communities which apparently happen to be the food baskets of the country will not be accessible due to the bad nature of their road networks.  
Meanwhile, the Sunyani Municipal Chief Executive, Kwasi Oppong Ababio, has cautioned mobile telecommunication companies which do not pay taxes to the assembly after erecting their masts to desist from that.
He stated that the assembly will go all-out to track down such companies to make them honour their tax obligations.
The MCE also charged various committee members to show great interest in the work which has been assigned to them in order to move the municipality forward.
Various departmental heads were present at the meeting to answer questions from the committee members and to also outline their programmes and challenges.
From Fred Tettey Alarti-Amoako, Sunyani