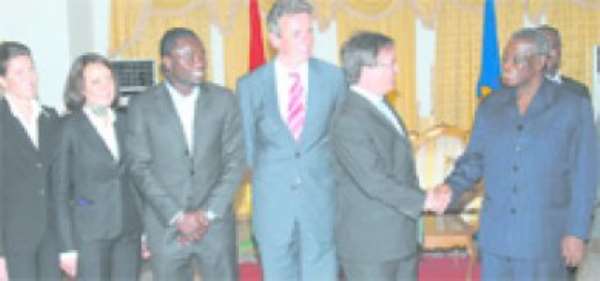 President J.E.A. Mills has described the Ghana-Germany partnership as an important relationship that will be beneficial to the peoples of the two countries.
He said the vision of the government was anchored in the pillars of creating jobs for the people and investing in infrastructure aimed at building a healthy society.
President Mills, who said this when a business delegation from Westphalia, Germany, called on him at the Castle, Osu, yesterday, therefore, welcomed any relationship that would prosecute the country's agenda.
"We feel proud that you have chosen Ghana. I wish to assured you that this will be justified," he said.
The President mentioned the areas that needed urgent support as potable water, electricity and the road network.
He said, for instance, that Ghana needed 500 megawatts of electricity to support its energy requirements and appealed to Germany to support it with 400 megawatts.
On roads, President Mills called on the delegation to bring its road experts to invest in the road sector, particularly the railway sector.
He warned, however, that all investors should ensure that they complied with the laws and regulations of the country.
The Minister of Generation, Family, Women and Integration of the Federal State of North Rhine Westphalia of Germany, Mr Amin Laschet, who led the delegation, said the partnership was aimed at bringing the two nations together, particularly the youth.
"Since we decided to make Ghana a partner, we have made a lot of progress," he said, and stressed the need to establish a liaison office in Ghana to prosecute the agenda.
The delegation was in Tamale and some parts of the Northern Region to explore the possibility of investing in those areas.