Paul Acquah challenges Duffour over redenomination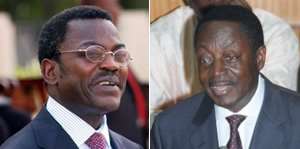 Paul Acquah and Duffuour
BoG Governor Dr Paul Acquah (L) and Finance Minister Dr Kwabena Duffour
The Governor of the Bank of Ghana, Dr Paul Acquah has reacted to criticisms that the redenomination of the cedi has had an adverse effect on the economy.
Dr Acquah said the timing of the programme was the best and had brought enormous benefits to the country.
Finance Minister Dr Kwabena Duffour is said to have criticized the exercise saying its timing was not prudent. He is also reported to have said the cedi is being supported with the country's reserves.
The redenomination exercise which started in July 1, 2007 to facilitate business transactions was not expected to affect the intrinsic value of the currency but there were fears it could lead to a surge in inflation and money illusion.
But reacting to Dr Duffour's comments, the central bank governor justified the exercise saying it could never have been inappropriate.
On the issue of supporting the cedi with the country's reserves, Dr Acquah said the net foreign exchange inflows could not be held by the bank but released onto the market.
"If you look at the arithmetic at least GH¢1.2 billion will have to be released onto the market," Dr Acquah stressed.
The BoG governor said such a move was necessary to provide stability on the exchange market.
Meanwhile government has ruled out the possibility of introducing the common currency for the West African Monetary Zone (Eco) in 2009.
The Eco, which was conceived several years ago, was scheduled to be introduced by December 2009 in its virtual form after the deadline was shifted twice.
With just seven months to the end of the year, little seems to have done on the programme.
Dr Acquah hinted that the deadline would certainly be missed.