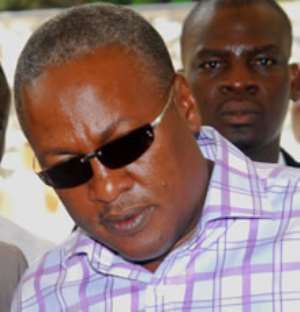 Vice President John Mahama has said the government would overhaul the shea industry as part of sweeping moves to transform the industry into a priority sector.
As part of the move, a Sheanut Development Board would be established to help Ghana tap into the fast expanding global shea trade which is projected to gross some 500 million dollars per annum within the next five years.
The Vice President, who announced these measures in the Burkinabe capital, Ouagadougou, on Tuesday, said the shift reflected the government's "recognition of the crucial role that the shea crop plays in the socio-economic development of the savannah area of the country".
"Government has made the development of the shea industry a priority in its national development agenda" so as to "harness the resources in the Savannah belt of Ghana for accelerated development."
Vice President Mahama was speaking at the second International Shea conference aimed at optimizing the global value chain and use of the product to promote improved rural livelihoods for women in West Africa.
Organized by the West Africa Trade Hub, the conference brought together policy makers, researchers, producers and financiers to dilate on steps that must be taken to increase shea trade and promote quality.
Vice President Mahama said premium would be placed on the development of Shea nuts into a cash crop as was done for the cocoa industry in the past.
"The understanding of government with these commitments is to make the shea nut industry the major driving force in the accelerated development of the savannah areas of Ghana".
Already, government has received funds from the International Fund for Agriculture Development (IFAD) and the African Development Bank (ADB) to commence the transformation process, he said.
Despite its propensity to provide all-year-round employment to producers, the sector is grappling with some challenges including poor processing and the difficulty in domesticating the crop, which remains largely a wild crop.
As a result, just about half of the expected produce is harvested annually.
Vice President Mahama said the challenges would be tackled holistically to encourage a higher percentage in production in the coming years.
He said government would provide the farmers with protective clothing to guard them against snake and insect bites.
The Burkinabe Prime Minister, Mr Tertius Zongo, appealed to West African governments to take advantage of shea trade to drastically reduce poverty in their countries.
Mr Samuel Laeuchli, Charge d'Affaires of the United States Embassy in Burkina Faso, pledged the US government's support in transforming the sector into a major source of foreign exchange for West African countries in the pharmaceutical, cosmetic and food industries.
GNA