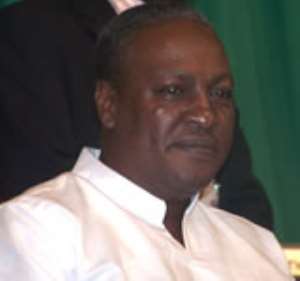 Immigration officials at Ghana's border with neighbouring Burkina Faso on Tuesday came under severe criticism over alleged extortion of money and seizure of passports of travellers who refused to yield to their demands.
Making the claim at a meeting with Vice President John Dramani Mahama, who was on a two-day visit to Burkina Faso, Ghanaian expatriates in Ouagadougou, claimed they had been subjected to all manner of coercion by immigration officials for nearly two decades and the situation was getting out of hand and required an urgent attention to reverse the slide.
Mr Ernest Osei Boateng, a Ghanaian plastic ware dealer in Ouagadougou, claimed travellers continued to endure anguish at Ghana's frontier with her Northern neighbour and called for the direct intervention of the Vice President since previous pleas failed to reverse the rot.
Mr Boateng said what was worrying in recent times was the forcible seizure of passports and other documents of those who refused to pay money to the immigration officials.
His complaints received unanimous endorsement from other members of the Ghanaian community, who turned out at the Ghana Embassy to receive the Vice President.
Confirming the allegations, Mr Mumuni Kofi Amuquandaoh, an official at the Ghana Embassy, said his office had on several times acted on the complaints and requested the immigration authorities to intervene but nothing concrete had come out of it.
Disturbed by the complaints, Vice President Mahama said he would demand a briefing from the Director of Immigration and deal expeditiously with the issue.
He assured the expatriates that government would not tolerate in any guise the situation where state officials extorted money from citizens.
Vice President Mahama also briefed his compatriots on efforts President John Evans Atta Mills had been making to reverse the decline of the economy in recent times, caused largely by the international financial debacle.
He said while some sacrifice would be expected, government was nonetheless on top of the issue to make Ghana a better place for all her citizens regardless of their political inclinations and social standards.
Mr Mahama said government would continue to place the welfare of the citizens at the heart of its policies, giving the assurance that the projected revenue of oil expected to come on stream next year would be geared towards providing social infrastructure especially in underserved communities.
Mr Alfred Saame, acting head of mission, challenged Ghanaians living outside the country to have a stake in ensuring the development of the motherland.
He said Burkina Faso had made some giant strides in the agriculture sector which businessmen must replicate in their own country to further enhance the drive to add value to food crops in Ghana.
From Nathaniel Glover-Meni, GNA special correspondent, Ouagadougou