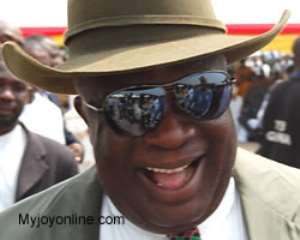 The founder and leader of the United Renaissance party (URP), Kofi Wayo has mounted a search for Kofi Agyekum who has absconded with GH¢50,OOO meant for his Youth in Agriculture project in the Brong-Ahafo Region.
Speaking in an interview on a Sunyani based Radio Station, Space FM, Mr. Kofi Wayo admitted that the situation has negatively affected the smooth commencement of the project and the idea to assist the youth in acquiring jobs in the region, but he was not perturbed as he was looking for an honest person to handle the project.
According to him, the said Kofi Agyekum would not be allowed to scot-free with the money, adding, that a report has been lodged at the Regional Police Headquarters in Sunyani for the arrest of the suspect. He said all attempts to get in touch with the suspect proved, unsuccessful which prompted him to lodge an official complaint to the police.
"I trusted the man to help in reducing the unemployment situation among the youth in the region, because he claimed that he came from a decent family background and that was the reason I gave him such an amount," Wayo disclosed.
Mr. Wayo stated that the suspect assured that he was fervently working towards achieving a reduction in unemployment among the youth in the region, and that a land had been acquired at Afrisipakrom in the Tano-North district of Brong-Ahafo for the Youth in Agriculture project.
He continued that after several months, he decided to go to the region to verify the extent of work on the project, but to his surprise the whereabouts of the man was not known and all attempts to get him proved futile.
The Founder and Leader of the URP disclosed that police personnel accompanied him to the house of the suspect's mother. According to him the mother cried bitterly, claiming that she did not know the whereabouts of the son and pleaded with Mr. Wayo to exercise patience on the matter.
On governance, Mr. Wayo stated that the Prof. Atta Mills' government was on the right track and hoped that they could deliver to the satisfaction of Ghanaians.
"They are less than 100 days in office but they have exhibited effective leadership and they would deliver on their promises as the President has cut down waste by reducing the number of vehicle in his convoy," he stressed.
According to Kofi Wayo, he is glad to see the President using a lean motorcade, which proves that he was really cutting down on expenditure. He expressed dissatisfaction about the condition of service of the Police Service, insisting that something must be done about the situation.
Kofi Wayo, however, maintained that he can not be ignored when it comes to issues of Energy, because he was the only person in the country with practical experience in oil management.
He urged public office holders to always be patriotic in their duties.