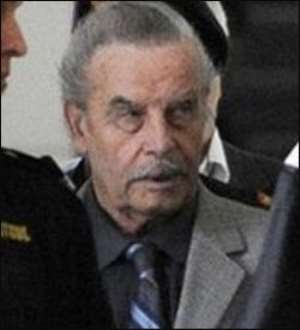 Josef Fritzl Josef Fritzl, the Austrian accused of imprisoning his daughter and fathering seven children with her, has changed his pleas to guilty on all charges.
Fritzl, 73, said video testimony from his daughter, played in court on Tuesday, had made him change his mind.
He locked up his daughter for 24 years. The charges include rape, incest, murder by neglect and enslavement.
A verdict and sentencing are due on Thursday. A court doctor has advised he be sent to a psychiatric facility
At the start of his trial on Monday, Fritzl had denied the charges of enslavement and murdering one of the children by neglect soon after its birth.
His surprise turnabout also altered his plea from "partial" to guilty on the charge of rape.
Fritzl could face life imprisonment for murder, 20 years for enslavement and up to 15 years on other charges. BBC
Under Austrian law his guilty pleas could be a mitigating factor, but only at the discretion of the judges and jury.
'Sorry'
Fritzl's lawyer, Rudolf Mayer, said watching his daughter's testimony had profoundly affected his client, "destroying" his emotions.