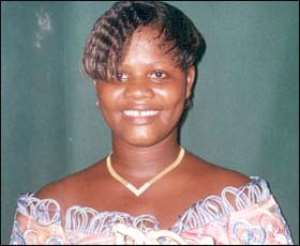 Christiana Love Pastor Love, husband of renowned gospel musician Christiana Love, was arrested by the Tesano Police last Monday and detained for several hours over an assault case.
According to the victim of the assault, Samuel Ohemeng, a taxi driver, Pastor Love was driving towards Lapaz whilst he was driving towards New Market from Lapaz when their vehicles met at a joint where one of them had to compromise for the other to pass.
Samuel claimed that he was in his lane so the Pastor was supposed to give him way; but Pastor Love rather veered towards him asking him in a very domineering manner to move back to allow him passage. The taxi driver refused and the pastor then quizzed him if he knew who he was talking to.
An eyewitness, Samuel narrated, prevailed upon him to move back so the pastor could go.
When Samuel entered his taxi to start the engine so as to give way to the pastor, Pastor Love from nowhere smacked both of his cheeks, leaving him with a swollen eye and several bruises on his body.
The taxi driver said he got out of the car in a bid to confront the pastor but was overpowered by Pastor Love and two others who joined to brutalize him.
Samuel then decided to report the case to the police whilst Pastor Love moved towards Achimota.
The aggrieved taxi driver chased the Pastor's car and hit the booth with a spanner, in an attempt to ask him to follow him to the police station; but the man of God started to call him a thief, drawing a crowd to the scene.
Later when they arrived at the Lapaz Community Police Station, Pastor Love handed Samuel over to the police that he was a thief he had arrested and urged the police to detain him, but the police declined.
After the police had taken Samuel's statement, he was issued with a medical form to receive treatment.
All attempts by the police to have Pastor Love to write his statement proved futile until he was arrested by the Tesano Police.
He has since been granted a police enquiry bail and may be arraigned soon.    
Meanwhile, Pastor Love is alleged to have threatened one journalist for airing the story without giving him money.
By Rocklyn Antonio