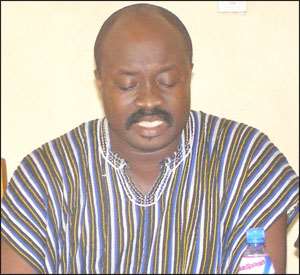 Yaw Budu Asamoa A PRESSURE group calling itself Committee for Democratic Movement (CDM) has waded into the controversial arrest of the opposition New Patriotic Party (NPP) chairman of the Assin North constituency, Mr. Fiifi Bako, on the orders of the Central Regional Minister, Ama Benyiwa Doe.
Addressing a press conference at Koforidua on Friday, the group asked President Atta Mills as well as the Interior Minister to establish independent investigations into the arrest since they believe it is politically motivated and that the Central Regional Minister is using her position to persecute her political opponents.
"We want President Mills and the Interior Minister to properly investigate the re-arrest of Assin North constituency chairman of the NPP since the Regional Minister is an interested party in the alleged robbery case brought against Mr. Fiifi Baako and is also   the head of REGSEC in the region".
The group is made up mainly of sympathisers of the opposition parties and based at Koforidua in the Eastern region.
According to them, while President John Atta Mills is openly preaching that he would be a President for all Ghanaians and not pursue any political vendetta, his party members and political appointees are practicing the opposite, harassing and attacking sympathisers of the opposition NPP.
The spokesperson of the group, Yaw Budu Asamoa popularly called Arafat, named Tamale in the Northern region, Bawku in the Upper East region, Assin Fosu in the Central Region and Akyem Oda in the Eastern region as few of the places where supporters and sympathisers of the main opposition party, NPP are being constantly attacked and harassed by agents of the ruling National Democratic Congress (NDC).The group also expressed dismay at how NDC operatives led by Emmanuel Victor Smith are harassing leaders and former ministers in the NPP government by wantonly seizing their cars and perpetrating thuggery and vandalism against them.
"We want President Mills to stamp his feet on the deteriorating security situation in the country particularly in the areas of political witch-hunting, mystery deaths and the current spate of accidents".
The group also called on the President to ask his Foreign Minister, Hon Mohammed Mumuni to resign honourably from his post because of his indictment by the court of law to help safeguard the hard-won reputation of Ghana in the eyes of the international community.
The spokesperson indicated, "NDC, this is not the better Ghana you promised Ghanaians. The rate at which costs of goods and services are rising, the average Ghanaian is tempted to believe that you rather promised a worse Ghana and not a better Ghana".
From Thomas Fosu Jnr, Koforidua