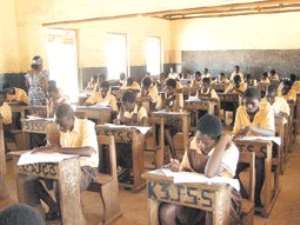 Omanhene of Gomoa Akyempim Traditional Area, Obrifo Ahunaku Ahor Ankobea II, has lauded the government's decision to subsidize Basic Education Certificate Examination (BECE) registration fee for pupils.
Obrifo Ahor Ankobea was particularly happy with the decision to extend the subsidy to students in private schools.
Speaking to the Ghana News Agency at Apam on Tuesday, the Omanhene said the government's gesture to provide exercise books and uniforms freely and to increase the capitation grant from GHc3.00 to GHc4.50 per pupil, demonstrated its commitment to strengthen school enrolment.
He appealed to parents to take advantage of the gesture to enrol their wards and retain them in school.
Obrifo Ahor Ankobea cited a report released by UNICEF in February last year, ranking Ghana seventh among African countries with the largest number of children of school-going age still outside the classroom and said the report had cast a slur on the reputation of the nation, whose independence dates more than five decades back.
"With almost everything in basic education now free of charge, parents have no excuse to keep their children out of school," he said and urged the government to institute sanctions against parents who will not enrol their wards.
In a related development, Obrifo Ahor Ankobea commended President John Atta Mills for appointing Daasebre Kwebu Ewusi VII, President of the Central Region House of Chiefs to the Council of State.