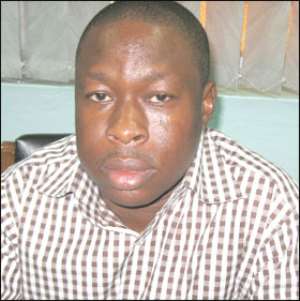 Leslie Tettey, National Coordinator, GNECC SCHOOL CHILDREN at a focus group discussion, organised by the Ghana National Education Campaign Coalition (GNECC) at Amasaman, have appealed to the Ghana Education Service (GES) to allow the Police Service, CHRAJ and other constitutionally mandated bodies to play their watchdog roles of protecting the lives and rights of children.
The call by these youngsters was as a result of the persistent cases of defilement as well as sexual abuse meted out to innocent pupils in basic schools across the country.
According to them, instead of GES to act responsibly and bring those teachers who were found culpable to face the law, it rather resorts to departmental disciplinary measures such as transfers to rural areas.
In one voice, the children argued that transferring these paedophile teachers to deprived areas as a punitive measure was unacceptable, describing it as "criminal and an insult on the dignity and respect of the deprived communities in Ghana".
These were some of the calls made by over 120 pupils, teachers and educationists who participated in a Focus Group Discussion on the theme: Who is Watching?, as part of activities to mark 16 Days of Activism against gender based violence in the country.
In Ghana, the GNECC organized the discussion in the Ga West District of the Greater Accra Region to create a platform for issues relating to sexual, psychological, emotional and other forms of physically abusive acts against girls in schools, for the necessary awareness that would generate the needed attitudinal change in society.
It was part of the advocacy interventions of the Stop Violence Against Girls in School Project (SVAGS), a five year advocacy, research, and community mobilization programme, to end abuses against girls in school environments.
The project, which is being funded by the Big Lottery Fund and managed by Action AID Ghana, is a collaboration between GNECC and Song Taba, a community based Coalition in the Northern Region, working to ensure the rights of girls and women are guaranteed and protected.
Among the pertinent issues discussed in separate groups of 90 girls; 20 boys and 10 teachers and educationists, were the inadequate provision and lack of gender friendly facilities in basic schools such as insufficient security, separate urinals, toilets and changing rooms for boys and girls in many schools in the country.
"Because some schools in the Ga West District do not have toilets, the practices of sharing public toilets located outside schools potentially expose girls to harm," the participants stated in a communiqué.
They bemoaned poor architecture of building plans for basic schools and challenged the Government and Metropolitan, Municipal and District Assemblies (MMDAs); and Ministry of Education to as a matter of urgency redesign school building plans to include separate urinals, toilets, changing rooms and fence walls to ensure maximum protection and security of school children.
The National Coordinator of GNECC, Leslie Tettey, further urged the Domestic Violence and Victims Support Unit (DOVVSU) of the Ghana Police Service to extend their outreach activities to basic schools in order to bring the Police closer to pupils, especially girls.
This according to him would help bridge the communication gap between pupils and the police at the local level to encourage girls to have confidence in reporting cases of sexual abuse to the police without fear of exposure.
He also called for development and enforcement of a gender policy that addresses issues of violence against girls in basic schools.
By Nathaniel Y.Yankson