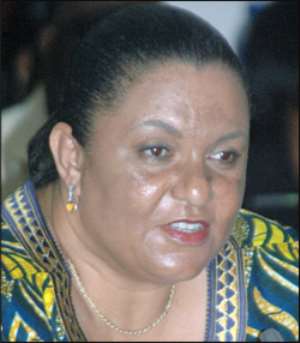 Hannah Tetteh GHANA'S EFFORTS over the years to achieve rapid economic growth have witnessed inconsistent results. Even though the last 25 years has seen continued growth in the country's economy, it has not been able to achieve middle-income status.
It was in reaction to this that on Thursday in Accra, during the launch of the Ghana Employers Association (GEA) 50th anniversary celebration, Hannah Tetteh, Minister of Trade and Industry, noted government was going to design a strategic framework for private sector development.
According to her, this would move the sector away from ad-hoc interventionist response and as well focus on how the country would improve life for its citizenry within the shortest possible time.
She said government further intended to ensure proper coordination of related policy areas with a focus on improving and sustaining macro-economic stability, promoting resource mobilization to support accelerated development, expanding the development of production infrastructure in energy, transportation and the provision of water and also communications.
On the challenge of low labour and asset productivity, the minister stated that an aggressive investment in education was needed to help build a competitive human resource base that could match world class skills.
"This will underpin the country's drive to adopt corporate governance practices and concentrate on the growth of enterprise productivity.
"We can also not ignore the need to adopt good corporate governance practices. We will need to encourage the continuous review of the legal environment and regulatory framework within which business can operate particularly, with reference to labour, investment promotion and tax laws to make them more user friendly."
Charles Cofie, president of GEA, in an address, said his association would intensify the crusade for the establishment of national productivity indicators across all key sectors of the economy, to help propel the nation towards middle income status.
In addition, he stated that GEA would push for collaboration between industry and education for the acquisition of employable skills by students, while encouraging medium to long term policies that ensured reliable, regular and affordable energy supply.
Serious consumer protection against illicit trade and counterfeit goods, she stated, would be enforced including the development of the informal economy.
By Samuel Boadi