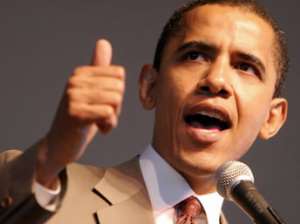 Just ahead of a major global economic summit, President Barack Obama called Wednesday for international allies to develop more aggressive steps to jump-start their own economies.
Obama told reporters after a White House meeting with Treasury Secretary Timothy Geithner that efforts to pull the U.S. economy out of recession will falter without global coordination.
"We can do a really good job here at home, with a whole host of policies, but if you continue to see deterioration in the world economy, that's going to set us back," Obama said.
Geithner outlined an ambitious agenda, including a tenfold increase in the size of emergency money the International Monetary Fund uses to help countries in trouble to as much as $500 billion.
Geithner is headed to Britain this week for talks with the finance ministers of 20 advanced and developing nations. Those meetings are a precursor to a leaders' summit on April 2 taking place in London early next month on the global financial crisis.
Obama's position puts the United States at odds with some European countries, including Germany, that believe it is more important to adopt better regulation of the world's financial institutions than to adopt more economic stimulus plans.
The Europeans, especially Germany, are worried about taking on more debt. And many in Europe also blame the current global downturn on financial institutions that badly miscalculated risk in heavy lending to consumers and corporations in recent years.
Obama said the U.S. has two goals for the so-called Group of 20 summit: to make sure there is "concerted action around the globe to jump-start the economy" and to achieve consensus on regulatory reform to take place in each country.
He did not directly criticize other nations, but he made it clear he didn't believe that allies are doing enough compared with the United States.
"As aggressive as the actions we are taking have been so far, it's very important to make sure that other countries are moving in the same direction, because the global economy is all tied together," he said.
Obama has met with several G-20 leaders already in the lead-up to the summit, including Japanese Prime Minister Taro Aso and British Prime Minister Gordon Brown. The president said those talks have made him "optimistic about the prospects" for a good agreement to come out of London.
Geithner, for his part, said the global recession appeared to be deepening and urged strong global action. He said the U.S. will seek approval to expand a $50 billion fund the IMF maintains to support countries in trouble to as much as $500 billion. The IMF needs much greater resources to be able to provide emergency loans to countries during the current crisis, he said.
In Toronto, meanwhile, Canada's finance minister said Wednesday he will urge the U.S. and Europe to fix their banking systems when he attends this weekend's finance ministers meeting.
Finance Minister Jim Flaherty said Canada will emphasize "the need, the imperative, of the United States to fix its banking system and the Europeans to fix their banking system."
He said that this was the best way to restore financing and credit internationally. Geithner and Flaherty both said they would encourage G20 countries to implement stimulus plans equivalent to at least 2 percent of gross domestic product. G20 countries agreed to do that last year.
Also Wednesday, Obama signed a $410 billion budget bill to keep the U.S. government running through September, acknowledging that he considered it "imperfect" because it had billions in spending for the pet projects of legislators.
"I am signing an imperfect omnibus bill because it's necessary for the ongoing functions of government," Obama declared. "But I also view this as a departure point for more far-reaching change."
In a sign of his discomfort with the bill, Obama signed the bill quietly rather than in public. He declined to answer a shouted reporters' question about why.
On another potentially controversial matter, the president also issued a "signing statement" with the bill, saying several of its provisions raised constitutional concerns and would be taken merely as suggestions. He has criticized President George W. Bush for often using such statements to claim the right to ignore portions of new laws, and on Monday he said his administration wouldn't follow those issued by Bush unless authorized by the new attorney general.
Obama's signing statement said he wouldn't be bound by provisions of the bill in five areas. They involved negotiations with foreign governments, limits on using U.S. troops in U.N. missions, protections for government whistleblowers, a congressional claim of authority over the spending of money already approved by Congress and congressional demands that the administration submit budget requests in certain forms.
The signing came as the Treasury Department announced that lower tax revenue and massive government spending on the bank bailout pushed the federal deficit to $765 billion in the first five months of the budget year, well on its way to hitting the Obama administration's projection of a record annual imbalance of $1.75 trillion.