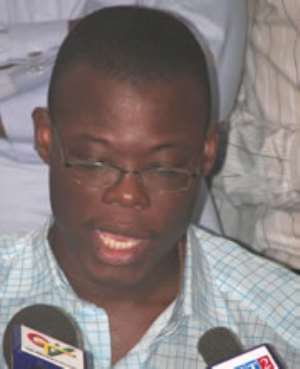 The Appointments Committee of Parliament is expected to lay before the House, its report on a number of nominees it vetted for approval by members of the House.
The appointment of Deputy Finance Minister designate, Fiifi Kwetey is set to be approved by a vote like that of Foreign Minister, Mohammed Mumuni.
The Minority in Parliament are unhappy about certain utterances by the nominee who is also the Propaganda Secretary of the ruling NDC.
Indeed Minority members of the committee opposed his appointment at the committee level but lost when it came to a vote, Joy FM's Parliamentary Correspondent, Araba Koomson has said.
The Member of Parliament for Abuakwa South, Atta Akyea said the profession of Mr. Kwetey as a propagandist makes him unsuitable for the position.
He said the background of Mr. Kwetey makes it easy for him to fiddle with figures for political gain which could spell doom for the country.
"He (Fiifi Kwetey) is going into a ministry where figures matter, and if you care to know there are instances where if you send wrong figures to IMF you will be punished financially and we are of the view that given the man's own track record, is this the kind of man that you give the opportunity to play with our figures – interest rates, analysis. These are mathematical things that you can't fiddle with in the name of propaganda."
But Mr. Kwetey says Mr. Atta Akyea and the minority are just being dishonest.
He said while they saw nothing wrong with Nana Akufo-Addo withdrawing Mr. Rawlings' privileges, they thought he could not be a deputy minister.
Mr. Kwetey's vetting lasted close to four hours, the longest ever in the history of vetting of government appointees in the country.
He acquitted himself well generally but had difficulties substantiating allegations made against some individuals in the opposition NPP.
Story by Malik Abass Daabu