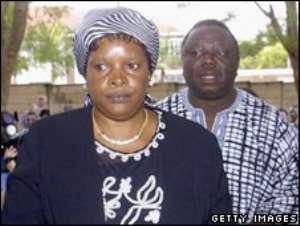 The funeral for the wife of Zimbabwean PM Morgan Tsvangirai, killed in a car crash on 6 March, is to take place on Wednesday, his party has said.
Susan Tsvangirai will be buried at her rural home in Buhera, a Movement for Democratic Change (MDC) official said.
Mr Tsvangirai, who is in neighbouring Botswana for medical tests and rest, is expected to return to Harare on Monday.
The MDC says it will carry out its own inquiry into the crash. But officials have not said they suspect foul play.
Mr Tsvangirai, who had previously spent time in Botswana while in opposition, flew there on Saturday after leaving a private clinic in Harare.
He had been treated in Zimbabwe's capital for head and neck injuries sustained in Friday's crash, party officials said. His condition is reported to be stable.
A source close to the prime minister told the BBC that his departure from Zimbabwe was not because of security concerns.
'Pillar of strength'
Mr Tsvangirai and his wife Susan, 51, who married in 1978, had six children together.
Relatives and friends have paid tribute to the strength and support she offered her husband and other MDC members who were jailed while in opposition.
The pair were travelling to their rural home in Buhera, where he planned to hold a weekend rally, when the crash occurred near Beatrice on Friday afternoon.
Police said a lorry carrying freight crossed into the lane in which the prime minister's 4x4 was travelling and side-swiped the vehicle, causing it to roll over three times.
US embassy officials said the lorry belonged to a partner organisation of the US government aid agency USAID.
The UK Foreign Office has confirmed that the lorry was operated by a project jointly funded by the US and UK and said that the crash appeared to be "a genuine accident".
Police investigations are under way.
'A mother to us all'
The crash came just two days after Mr Tsvangirai delivered his maiden speech to parliament after being sworn in as prime minister in Zimbabwe's power-sharing government.
He was visited in hospital by his political rival President Robert Mugabe and his wife Grace.
But relations between the MDC and Mr Mugabe's Zanu-PF party remain tense, with MDC ministerial nominee Roy Bennett still in custody, accused of links to an alleged plot to kill Mr Mugabe.
MDC secretary-general Tendai Biti paid tribute to Mrs Tsvangirai on Saturday, calling her "a mother to us and to our struggle".
Speaking at a news conference, he said the accident could have been avoided if a police escort had been provided.
However, correspondents point out that Mr Tsvangirai was not entirely comfortable with security provided by the new government, relying instead on his own security teams.
All Zimbabwe's roads are in a poor state of repair after years of neglect, correspondents say.