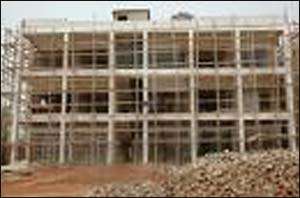 Building A popular Christian radio-preacher, Evangelist Kweku Apraku, was early Thursday morning ejected from his residence at East Legon by his landlord.
Apraku, affectionately called "my daughter", is the General Overseer of his church which was formerly called King Jesus Evangelistic Ministry, at Baatsona on the Spintex Road in Accra.
Evangelist Apraku, reported to be out of the country presently, had duly been notified by his family. Other family sources suggested that Pastor Apraku could be holed up somewhere in the Eastern Region.
A visit to the house revealed that all his personal belongings including electrical appliances, furniture and clothes among others were in front of the house, while his two daughters and other tenants helplessly stood by.
One of the daughters, who gave her name as Abena Sarfowaa, said Pastor Apraku did not owe the landlord, and that she did not know the reason for his ejection.
"My dad is not even owing electricity bill, so we don't know why he was ejected," she told ASEMPA FM.
 She said her father took over an uncompleted house from the landlord, completed it and had been living in it for a couple of years until that fateful morning.
She suspected the landlord must have had plans to rent the house to a new tenant.
The landlord on his part told Joy News that he had had problems with Apraku's conduct in the house; including bringing too many people to the house against agreed terms.
 "He did not honour his rent obligations on time, and he lived in the house and did whatever he wanted".
That, he said, was the reason he had for ejecting the radio preacher, conceding however that his tenant did not owe any rent.
Apraku's church has had a series of change of names, from the King Jesus Evangelistic Ministry to King Jesus Free Bread Ministry and presently known as Free Bread Ministries International.