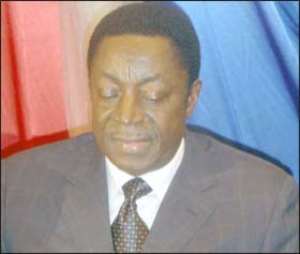 Dr Kwabena Duffuor DR. KWABENA Duffuor, Finance and Economic Planning Minister, will today present to Parliament the 2009 budget for debate and approval.
Against the backdrop of a global financial crisis, the budget for this fiscal year is expected to help address some challenges in the economy such as the high fiscal deficit and thereby put the country on the path of accelerated growth.
Though details of the document are yet to be made public, President John Evans Atta Mills at his first State of the Nation Address to Parliament outlined a pack of austere measures which he said would cut government spending.
In his address, the President said he will reduce the size of his government but he has so far named about 75 ministers.  
President Mills also said he is ready to give the Ghana National Petroleum Company the necessary assistance and attention to develop the Jubilee Oil Fields.
Government's decision to revert the duration of Senior High School to three years was also touched on by the President.
Others include the move to revive the agriculture sector especially the Aveyime Rice Project which re-started operations last year under the New Patriotic Party government.
Dr Duffuor is expected to announce measures to enable the nation mobilize enough revenue to meet its expenditure, contrary to President Mills's promise of relaxing taxes.  
Government's fiscal and monetary policy to help fight rising inflation and reduce the free fall of the Ghana Cedi to the major foreign currencies is also expected to be announced.  Inflation for February stood at 19.86 percent, the highest since November 2004 when the figure hit 26 percent.
Also expected to be announced are some macroeconomic targets such as inflation, Gross Domestic Product (GDP) and Gross International Reserves. The 2008 target of the past government included an inflation of seven percent, GDP, seven percent and secondary reserves of 3 months of import cover.
Government's quest to reduce the current fiscal deficit will also be high on the agenda. At his vetting last month, Dr Duffuor promised slashing the current budget deficit quoted as 15% of GDP, to 9 percent in 2009.
A new minimum wage for public sector workers will also be included in the comprehensive document.
On social projects, the budget is expected to continue the good programmes started by the past administration such as the National Health Insurance Scheme (NHIS), School Feeding Programme and the Capitation Grant vis-à-vis new ones that would be introduced. 
The budget will also cover estimates for the various ministries and their programmes for this fiscal year.
By Charles Nixon Yeboah