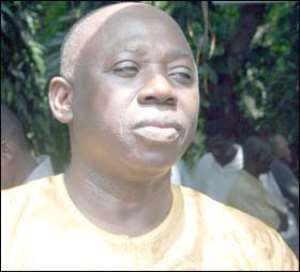 Alhaji Mohammad Mumuni MOHAMMAD MUMUNI, the newly-appointed Minister of Foreign Affairs and Regional Integration is waging a survival battle as he denies knowledge of any Auditor-General's report implicating him as a Minister of State during the previous administration of the National Democratic Congress (NDC) led by ex-President Jerry John Rawlings.
Addressing a packed news conference in Accra yesterday, the former Minister of Employment and Social Welfare in the Jerry Rawlings regime stated emphatically:
"I have never sighted any Auditor-General's report signed or authenticated by the Auditor-General or on his behalf and not even the Appointments Committee of Parliament could show me a copy or even vouch for the existence of any such report".
Anti-corruption crusaders are mounting pressure on Alhaji Mumuni to step aside or be fired by President Atta Mills, saying that the court ruling was very indicting and that he needed to clear his image.
Alhaji Mumuni who has been a subject of political controversy of late as a result of a damning 2004 Auditor-General's report, claimed that he did not know that he was being audited.
"Until the DAILY GUIDE newspaper started to serialize a purported audit report on me, I never had the slightest hint that I was a subject of an audit inspection. I was never given the opportunity to contradict or explain anything alleged by the so-called auditors," Alhaji Mumuni claimed.
The Minister of Foreign Affairs had filed for defamation against Western Publications Ltd, Publishers of DAILY GUIDE, Baffour-Awuah & Associates and two others at an Accra Fast Track High Court, seeking ¢1billion in damages for a publication by the newspaper in which ¢8 billion was reportedly transferred by him into the account of the National Vocational Training Institute (NVTI) without Parliamentary approval, contrary to Financial Administration regulations.
However, in giving its ruling on Friday February 27, the court presided over by Justice A.K. Acquaye, an Appeal Court judge with additional responsibility as a High Court judge, noted that the findings against Alhaji Mumuni "were very serious" considering the fact that he could not account for how the money was used, and asked the Minister to pay GH¢4,000 to the defendants as cost.
Notwithstanding the court ruling and persistent calls on Alhaji Mumuni, one-time running mate to Prof. Mills to resign, he was insistent that he would not resign as a Minister of State, saying he had appealed against the court ruling and until he is found guilty of any wrongdoing, he would remain at post.
According to him, the Fast Track High Court did not say the Auditor-General's report was a valid document.
He stated that at the time of the judgment he had written to the court to point out that there were important omissions from the record of proceedings before the court which needed to be rectified.
He pledged, "Should it be shown or proven that I, Alhaji Muhammad Mumuni, have stolen a single pesewa of the taxpayer's money or taken a personal benefit whether directly or indirectly or been corrupt or abused my office or been guilty of wrongdoing, I am prepared not only to resign from my present appointment as Minister of Foreign Affairs and Regional Integration but will also offer myself for prosecution and any penalties prescribed by law".
Since Alhaji Mumuni's nomination as Minister of State by President Mills, a pressure group, Alliance for Accountable Governance (AFAG) has consistently called for the revocation of his appointment, citing instances of wrongdoing against the former Member of Parliament for Kumbungu.  
AFAG yesterday repeated its call on Alhaji Mumuni to resign over the National Vocational Training Institute (NVTI) audit.
The group at a press conference in Accra said Alhaji Mumuni had failed to adhere to the financial regulation law since he could not account for money belonging to the state when he was Minister for Employment and Social Welfare under the previous NDC government.
Kwabena Bomfeh, a leading member of the group asked the President to dismiss the Foreign Minister since his appointment was unconstitutional and would not serve the interest of the nation.
"AFAG would use the full length of the law or any other option available, should Mumuni refuse to resign and the President fail to dismiss him," he said.
Mr Bomfeh said the High Court had upheld the validity and legality of the Auditor-General's report which accused the Minister of misappropriation of funds and accordingly dismissed all relief sought by Alhaji Mumuni in a suit against DAILY GUIDE.
"As a result, Alhaji Mumuni has a case to answer to the good people of Ghana as to how, why and on what the money of the people of Ghana was utilized. Until these questions are answered to the satisfaction of the people of Ghana, we believe that Alhaji Mumuni is unfit to remain in office."
Mr Bomfeh said Alhaji Mumuni's acts had gravely prejudiced the interests of the state, and pointed out that those monies that would otherwise have been used to meet the needs of the needy and less privileged, had been lost.
Meanwhile, a group calling itself the Concerned Students Coalition (CSC), USA Chapter, has appealed to President Mills to terminate the appointment of Alhaji Mumuni as Minister of Foreign Affairs.
In a press statement issued by the Coalition's Communications Director, Peter Jackson Wadja and the Research Director, William Yamoah, it suggested that a committee be set up to thoroughly investigate the purported misappropriation of public funds by Alhaji Mumuni.
"At CSC's emergency meeting held in Boston, Massachusetts, it was unanimously agreed that in view of the sensitive nature of the Foreign Ministry, the Minister, Alhaji Mumuni, should resign immediately," the statement noted.
By Awudu Mahama