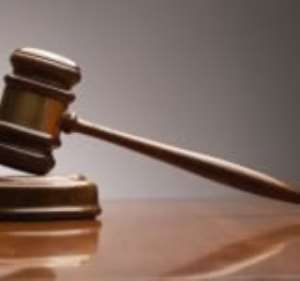 A convict serving a three-year jail term was yesterday handed another 10 years imprisonment with hard labour by an Accra Circuit Court for trading in drugs while in prison custody.
Andrew Boahene, a labourer, was serving a three-year sentence for unlawful entry at the James Camp Prison when he was caught by a prison officer selling Indian hemp (wee) to other inmates.
Boahene, also known as Afriyie, was found guilty of possessing narcotic drugs without lawful authority. Two other inmates he mentioned as accomplices were earlier on April 30, 2008, discharged by another court.
In sentencing him, the court presided over by Mr. Iddrisu Mahamadu directed that GH¢1.50 retrieved from Boahene should be given to the court's registry to buy materials for the destruction of the exhibits by burning.
It is the prosecution's case that on April 11, 2008 at about 3:15 p.m., a prison officer on duty in the yard of the James Camp Prisons spotted Boahene exchanging something suspiciously with other convicts.
The prison officer confronted Boahene and conducted on-the-spot search on him which revealed GH¢1.50.
According to the prosecution, during a further search conducted at the dormitory where Boahene sleeps, 56 wrappers of dried leaves concealed in a polythene bag was retrieved from his corner.
When confronted, Boahene claimed ownership of the substance and alleged that two convicts, Nana Yaw Arhinful (also known as Black Coat) and Iddrisu Dauda (Tiko) supplied him with the substance to sell.
The prosecution said Boahene told the prison officer that Arhinful and Dauda promised him an unspecified commission when he finished selling the stuff, but the two convicts denied any involvement.
On July II, 2008, the prosecution said that they received a report on the stuff from the Police Forensic Laboratory which proved positive of Indian hemp.