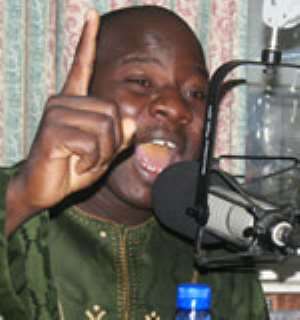 The Presidential Press Secretary, Mahama Ayariga, has denied any involvement in renewed clashes between Kusasis and Mamprusis in the Bawku Municipality of the Upper East Region.
Mahama Ayariga, who is the former MP for Bawku Central in an interview with ASEMPA FM on the EKOSII SEN programme on Monday, urged stakeholders in the Bawku conflict to help solve the situation instead of making wild allegations and politicizing the problem.
Reacting to an allegation made by Bawku Central MP, Adamu Daramani on the same show that he (Ayariga) has a hand in what is going on in Bawku, Mahama Ayariga stated that the presidency had planned to send a strong government delegation to the area to ascertain things for themselves.
Meanwhile, a Press release by His Excellency, President John Evans Atta Mills has expressed deep worry over the resurgence of violent clashes in the Bawku Municipality and its environs.
The President has therefore appealed to all the sides in the conflict to lay down their arms immediately. He has ordered reinforcement of military and police personnel to the area to protect lives, reiterating his commitment to ensure that every Ghanaian enjoys peace in every part of the country.
The Vice President, John Dramani Mahama, was yesterday directed by the President to visit Bawku to meet with all the sides in the conflict with a view to finding an amicable lasting settlement of the issues in Bawku.
The Police Administration is however assuring the general public that all efforts are being made to maintain law and order in Bawku.
A statement signed by the Director of Public Affairs at the Police Headquarters noted that a joint Military-Police patrol teams have arrested 27 persons in connection with the renewed conflict in the area.

Credit: ASEMPA FM