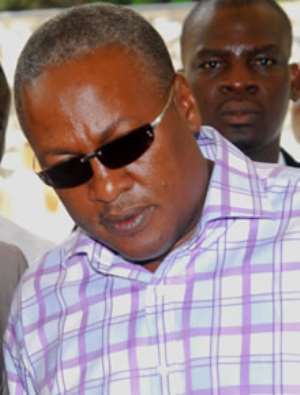 The President, John Evans Atta Mills has dispatched his second-in-command, John Dramani Mahama to Bawku, the Upper West regional capital as an emissary to broker lasting peace between the Kusasis and the Mamprusis.
Two people were confirmed dead Sunday in renewed clashes in the area, sending worrying signals the conflict might degenerate.
A combined military and police search led to the arrest of 27 people said to be connected with the violence. They are to be investigated, while the search continues for guns in private hands.
But the police commander DCOP Ahmed Mahama said the recent clashes cannot be linked to the ethnic rivalry between the two groups.
Presidential spokesperson, Mahama Ayariga told Joy News' Evans Mensah on Monday, the vice-president will visit the trouble spot immediately after he is given clearance by the security.

He said the vice president's preoccupation will be to restore law and order, rather than to find the cause of the skirmishes. He is also expected to meet with heads of the two ethnic groups.
According to Ayariga, the presidency is yet to receive from the National Peace Council the blueprint on the way forward for peace in the region, but conceded preliminary meetings have been held.
The National Peace Council has been working to restore lasting peace to the area, and are shocked about the recent spate of violence.
Mauvi Wahab Adam, vice-chairman of the National Peace Council, commended the vice-president as well as the newly appointed Interior Minister for their continued support of the council and hoped the mutual effort would yield fruits in bringing the desired peace to the region.
Story by Nathan Gadugah