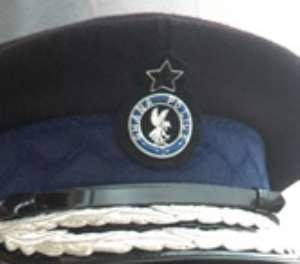 There was an emotional scene at the Ashanti West Police Divisional Command, Suame, when a 19-year-old final-year student of a technical school in Accra, suspected to be involved in an armed robbery, broke down and pleaded with the police to spare him to enable him to write his final examination.
The student (name withheld) who said he was lured by friends to rob, was arrested on Wednesday, with an accomplice, Yaw Amoateng, 24, while in the process of selling a stolen taxi cab with registration number AS 1824 Y at Suame Magazine in Kumasi.
Three men believed to be the masterminds, are on the run.
Briefing newsmen, Chief Superintendent A. Aggrey said on Monday morning, the suspects who were in Kukurantumi in the Eastern Region, hired a taxi to another destination in Kukurantumi.
When they got to Ankasi, a suburb of Kukuranmmi, they allegedly beat the driver into unconsciousness and drove the car to Kumasi Suame Magazine, intending to sell it.

However, the person they contacted to buy the car became suspicious of them and alerted the police who stormed the place and arrested Asare and the student, but the others escaped.
The two are in police custody pending further investigations.