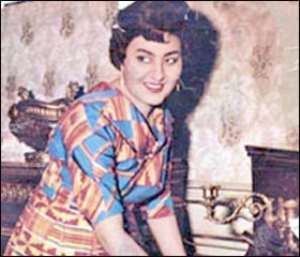 Fatia Nkrumah THE New Patriotic Party (NPP) Member of Parliament for Kwabre West, Emmanuel Asamoah Owusu-Ansah says Fatia Nkrumah; the premier First lady of Ghana, deserves a posthumous apology from Ghana for treating her shabbily. 
Hon. Owusu-Ansah, who was contributing to the debate on President John Evans Atta Mills' State of the Nation address on the floor of Parliament yesterday, noted that although he supports the president's intention to institute a Founder's Day as a national holiday in honour of the First President, Osagyefo Dr. Kwame Nkrumah, it is important for Ghanaians to acknowledge that his wife was badly treated after the 1966 coup.
According to the former Ashanti Regional Minister, ex-President Rawlings' Provisional National Defence Council/National Democratic Congress (PNDC/NDC) virtually chased out Fatia Nkrumah and her children from the only residence given to them by General Ignatius Kutu Acheampong. It was the NPP administration which restored it to them after many years in the wilderness.
Hon. Owusu-Ansah said Ghanaians still do not understand the circumstances that led to the removal of Madam Fatia from the residence, which later accommodated Justice D. F. Annan, former Speaker of Parliament and PNDC member, adding it is only fair that in an attempt to honour her husband, she should also be recognized for her enduring undue hardship in the hands of political authorities.
While commending President Mills for thinking of honouring Dr. Nkrumah for his laudable achievements and pioneering role in the attainment of political independence of the country, Hon. Owusu-Ansah called for the establishment of a National Hall of Fame to honour all distinguished Ghanaians in various fields of endeavour, including sports, arts, academia and politics.
Later, Parliament unanimously approved the new membership of the Pan-African ECOWAS Parliaments for the Fifth Parliament of the Fourth Republic.
The members for the Pan-African Parliament are Hon.    E.K.D.Adjaho; First Deputy Speaker, Hon. Ambrose P. Dery; Deputy Minority Leader, Hon. E.T. Mensah; Majority Chief Whip, Hon. Moses Asaga; MP for Nabdam and Hon. Elizabeth Agyemang; MP for Oforikrom.
Those for the ECOWAS Parliament are Hon. John Akologu Tia; Deputy Majority Leader, Hon. Michael Teye Nyaunu, MP for Lower Manya; Hon. Francis Yaw Osei-Sarfo; Krachi West and Hon Stephen Balado Manu; Ahafo Ano South.
The rest are Dr. Mustapha Ahmed; Ayawaso East, Hon. Elizabeth K.T. Sackey; Okaikwei North, Hon. Kennedy Ohene Agyapong; Assin North and Hon. Simon Osei-Mensah; Bosomtwe Constituency.
By Awudu Mahama & Sheilla Sackey