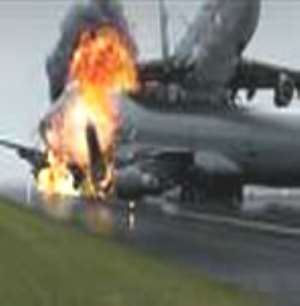 A Turkish Airlines plane has crashed on landing at Amsterdam's Schiphol international airport, killing nine people and injuring at least 50 people.
The plane, with at least 134 passengers on board, crashed short of the runway near the A9 motorway and broke into three pieces, but did not catch fire.
Witnesses spoke of seeing at least 20 passengers walking from the wreckage of Flight 1951.
Officials said it was unclear why the plane, en route from Istanbul, crashed.
There were conflicting reports initially about the number of dead, but at a press conference at Schiphol a couple of hours after the crash, the airport director confirmed that nine people had died.
Schiphol Airport spokesman Rudd Wecer earlier told BBC News that the plane came down a couple of hundred metres short of a runway, in normal weather conditions.
Emergency services reached the site quickly, he added.
Television footage showed rescue workers laying out white sheets on what appeared to be bodies.
The injured people were being taken to Spaarne hospital, in Haarlem, close to the airport, while relatives of passengers were assembled in a sports hall at a nearby village.
There were discrepancies about the number of people on board, ranging from 134 to 143.
A witness who was driving past the airport moments after the crash told BBC News he saw the plane lying in a field just 60 metres from the A9 motorway, surrounded by large clouds of brown dust and grey smoke.
"I saw the plane lying there in three pieces," said Nikolai van der Smagt, who works for a telecom company near Schiphol airport.
"The first people were just getting off the plane and they looked confused. There was a lot a dust, but no fire."
Resident Jonathan Nip described the scene: "What I'm seeing now is the whole of the aeroplane - without any wings or front or rear end - is lying in the field and there are about 50 ambulances, a lot of fire trucks, a couple of helicopters, emergency helicopters, a lot of police, a lot of sirens.
"The highway which is running next to the crash site is closed right now because of the traffic that has stopped to watch the crash."
All flights were suspended, but the airport has since re-opened.
The Boeing 737-800 aircraft left Istanbul's Ataturk Airport at 0822 (0622 GMT).
The last crash involving a Turkish Airlines plane was in 2003 when at least 65 people died in an accident in eastern Turkey.
Schiphol airport has six runways and one major passenger terminal. In 2007, it handled 47 million passengers, ranking fifth in Europe.