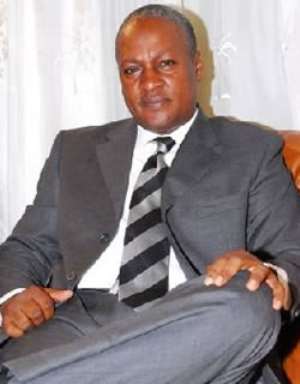 Ghana and Angola on Tuesday affirmed their commitment to renew and strengthen bilateral ties for their mutual benefit.
Vice President John Dramani Mahama has consequently called for the necessary processes to get underway so that the two countries could start their joint co-operation.
The Vice President made the call when an Angolan delegation led by Mr Jose Gurreiro Alves Primo, Angolan Ambassador to Ghana, paid a courtesy call on him at the Castle, Osu.
He noted the friendly ties between the two countries and the role of Ghana in Angola's liberation struggle and independence and said it was necessary the two nations forged a united front for their economic development.
Vice President Mahama said Ghana recognized the potentials of Angola in the oil industry and reiterated that strengthened collaboration between Ghana and Angola would allow Ghana to benefit from Angola's expertise for the development of Ghanaian manpower for her newfound oil industry.
He recalled Ghana's contribution to Angola's building industry through the then State Housing Corporation in Angola and expressed the wish that this collaboration would be renewed.
Mr Primo also welcomed the joint cooperation and the need to re-establish their bilateral economic ties.