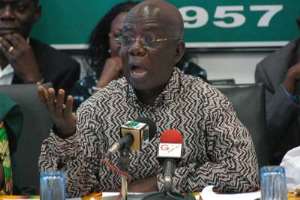 …dealings at Ghana International Airlines (GIA) uncovered
All powerful Kwadwo Mpiani, the immediate past Chief of Staff, had every reason to announce the NPP's decision to boycott activities of the transition team at a time when work had virtually come to an end, and the revelations are amazing.
For the other members of the NPP, who unknowingly joined him to make that announcement at a press conference in Accra recently, it was a genuine attempt at safeguarding the image of the party; but for Mpiani, it was something else.
After realizing that the nozzle was tightening around his neck, Mr. Mpani decided to use the 'patapa' he is well known for during his days in office to outwit the transition team in order to proclaim his new catchphrase, "witch-hunting"
Mr. Mpiani, who remained evasive when asked to provide some information to the team, is now going round from one media house to the other making empty noises over the work of the Team.
He claims the team had invited the Auditor-General to give out information in the full glare of the media and for that matter the NPP was not going to cooperate with them. His claims came at the tail end of their work, when the report was ready for presentation to the President,
Information gathered by the Daily Democrat indicates that Mr. Mpiani's handling of the affairs of the Ghana International Airlines (GIA), has resulted in the loss of the huge sums of money, as the result of a legal battle the airline is engaged in.
The legal battle came about because, in the usual 'patapa' style, Mr. Mpiani sacked the CEO of the minority GIA-USA on April 7, 2006 incurring financial loss to the state. GIA-USA has a 30% stake in the Airlines, with Ghana taking 70%. It is also emerging that the 70% ownership has some dark clouds hanging around it. The nation has to cough out $1.5million every month to enable GIA operate until the Government takes a decision.
Mr. Mpiani also has a lot of questions to answer in the construction of the Jubilee House and the [email protected] 50 celebrations, which were all handled like a personal business.
He refused to cost the Jubilee house, meant to be the seat of government with the explanation that he could not know because the house was still under construction. He would not grant any interview on air to speak on the issue.
Now, he is all over the place making noise. On Happy Fm's Eye witness news, he deliberately avoided Dr. Tony Aidoo of the NDC over the issue of the Transitional Team, with the excuse that he was not told the latter was also going to talk on the issue. They were interviewed via phone.
Credit: Daily Democrat